SOAS East Asia Society Student Conference 2014: Working with China, Japan and Korea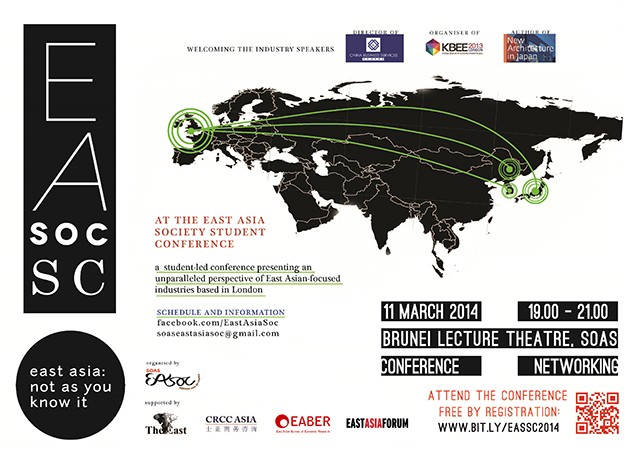 THIS EVENT IS OPEN TO ANYONE, in or out of SOAS, lecturers, professionals, staffs and students.
In 2 short hours we introduce Jeremy Gordon, Jang Daehan (Jacob), and Yuki Sumner as our speakers. Strategy consultancy of China, Creative Industries (Animation and Games) of Korea, Journalism (in architecture) of Japan: Find out more here so you can make the most of the networking and QA session, prepared just for you.
We have the pleasure of bringing to the stage these three professionals:
– Jeremy Gordon: Director and China Consultant of China Business services. Experienced in delivery of international business development and consulting services, strategy and risk management in China (Over 10 years experience in his field). http://www.chinabusinessservices.com/
– Jacob (Daehan) Jang: HR Manager and Creative Industries researcher, organiser of KBEE 2013 London at KOTRA.
Jacob is a King's College London graduate in the competitive Culture, Media, and Creative Industries (CMCI) programme, and now positions himself with KOTRA (Korea Trade Centre) which was responsible for last year's successful KBEE 2013 Expo in London, a 3-day event that showcased and exemplified Korean brands and culture for business and fans.
www.kotra.org.uk
– Yuki Sumner: Yuki Sumner is a critic, writer, lecturer, and curator with a special interest in contemporary Japanese art and architecture. Her articles are widely published in newspapers and periodicals, including The Guardian, the Sunday Telegraph, Architectural Review, Wallpaper*, Building Design, ICON and many others. She has recently published a book: New Architecture in Japan (Merrell Publishers, March 2010).
www.yukisumner.com
Please register to gain free attendance for the event here:
http://bit.ly/EASSC2014
Date: Tuesday, 11 March 2014 – 19:00 until 21:00
Venue: Brunei Gallery At SOAS, 10 Thornhaugh Street, WC1H 0XG