Soft Power- Influence and Persuasion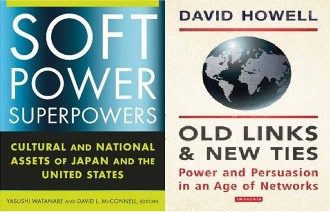 "Soft Power" is a concept developed by Joseph Nye of Harvard University in 1990. "Soft Power" is a country's ability to get what it wants by attracting rather than coercing others. In this seminar, Lord Howell will focus on the grey area of national power in the age of digital networks, on the role of civic engagement and soft power as opposed to hard power. He argues that if a nation's soft power is to be successfully built up and deployed to its advantage, credibility is crucial. The messages of soft power are useless if they are seen as propaganda. Is it ever possible for a state to use soft power and not make it look like propaganda? Joseph Nye recently introduced the concept of 'smart power'. If soft power is to work alongside military action, what is the right balance between soft and hard? And what is the modern soft power agenda in the age of digital networking?
Professor Yasushi Watanabe will examine the potentials and limitations of "soft power," with a particular focus on Japan's public diplomacy. At the time when "power transition" and "power diffusion" has become conspicuous both on national and global levels, where should it or can it go? At the time when global competitions for soft power get intensive, how can it avoid falling into a downward spiral of zero-sum game? There are crucial questions at the time when Japan aspires to be a "proactive contributor to peace." The seminar will be chaired by Professor Mike Hardy, Executive Director of the Centre for Trust, Peace and Social Relations.
Date: 25 March 2014, 6.00pm
Venue: Daiwa Foundation Japan House, 13 – 14 Cornwall Terrace, London NW1 4QP
Tel: 020 7486 4348
Email: office@dajf.org.uk
Web: http://www.dajf.org.uk
Organiser: The Daiwa Anglo-Japanese Foundation