Sogetsu Ikebana Exhibition and demonstration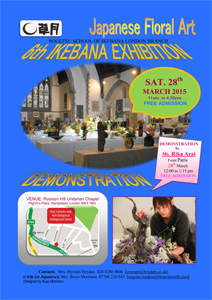 Japanese flower arranging exhibition giving an excellent insight into the modern ikebana art of the Sogetsu school. Many floral exhibits will be displayed by local and foreign artists. Ikebana teachers will be present to give information and answer visitors questions.
Mrs Rica Arai from Paris will give an hour long demonstration at 12pm in the Chapel titled "Breeze-Kissed Blooms".
Light refreshments will be on offer.
Entrance fee : Free of charge – donations are welcome
Doors open to public at 11am till 4.30pm
Date: 28 March 2015, 11am till 4.30pm
Venue: The Rosslyn Hill Unitarian Chapel, Pilgrim's Place, Hamspstead NW3 1NG
Email: martinegracey@hotmail.com
Organiser: Sogetsu School of Ikebana London Branch