Special Tour of the Bonsai Collection – Kew Gardens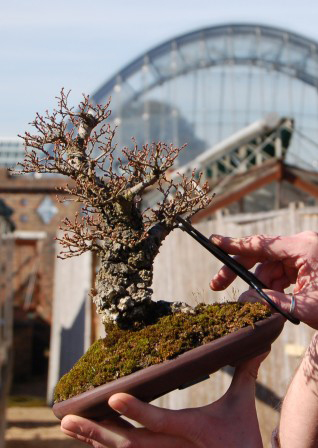 Japan Society members are being offered a rare opportunity to visit Kew's valuable collection of bonsai trees in the company of resident expert, Richard Kernick.
Assembling at the Elizabeth Gate Entrance at 9.00am (see below for directions), guests will proceed to Kew Garden's Orangery for a private breakfast, including coffee, tea, freshly squeezed juice and pastries. An introduction to the Kew Foundation's current projects will be given during breakfast.
Following this, guests will be divided into two groups. The first group will be led to the glass house containing the bonsai collection for a tour lasting approximately one hour. The second group will be free to roam the gardens until 11.00am, when they are asked to assemble at the glass house to begin their own tour.
All attendees will be granted complimentary guest passes allowing them access to Kew's extensive grounds for the rest of the day.
Date: Wednesday 24 April 2013, 9.00am
Venue: Elizabeth Gate Entrance (see below for directions), Royal Botanic Gardens, Kew, Richmond, Greater London TW9 3AE
Fee: £10.00 for Japan Society members and their guests (Price includes breakfast, special tour and day pass)
Booking deadline: Wednesday 17 April