Spring Double Bill: "Kabuku" and "The Garden of Words"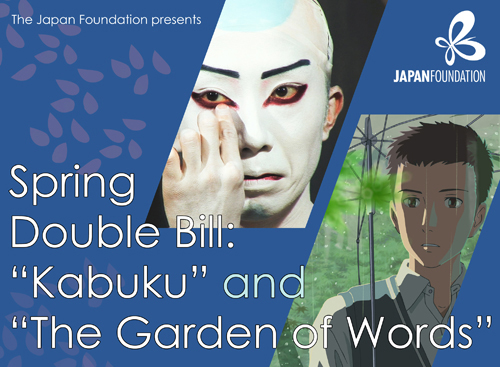 This April we will be giving you the opportunity to see two of the most liked films previously shown by us, presented as a very special double bill screening. Catch these films offering two very different windows through which to view Japan – but be sure you book soon! Last time both showings sold out in the blink of an eye.
Kabuku
Kabuku is a fascinating documentary offering a behind-the-scenes view of Japanese Kabuki theatre. Focusing on the rehearsal process and lead up to the performance of the contemporary kabuki play Yoshitsune Senbon Zakura (Yoshitsune and the 1,000 Cherry Trees), the documentary follows the preparations by the play's well-known and respected actor, Kamejiro Ichikawa II, now inheritor of the prestigious stage name Ennosuke Ichikawa IV. The film is an often unseen glimpse into the many backstage preparations involved and provides a colourful introduction to contemporary kabuki performances.
Dir. Yoshitaro Saito, 2013, 41min, English subtitles (© Yoshitaro Saito)
The Garden of Words
The Garden of Words is an animation by Makoto Shinkai, one of the most exciting animation filmmakers in Japan today renowned for producing films full of stunning scenes and visuals combined with beautiful stories. When Takao, a high school student dreaming of becoming a shoemaker, skips school one day, he encounters the mysterious Yukino. The two strike up a friendship through chance meetings in the same garden on each rainy day. But the rainy season is coming to a close, leaving many things left unshared between them.
Dir. Makoto Shinkai, 2013, 46min, English subtitles (© Makoto Shinkai/CoMix Wave Films)
Date: 9 April 2016 from 1.00pm
Venue: The Courthouse Cinema, Courthouse Hotel, 19-21 Great Marlborough Street, London W1F 7HL