Stefan Warzycki – Piano Recital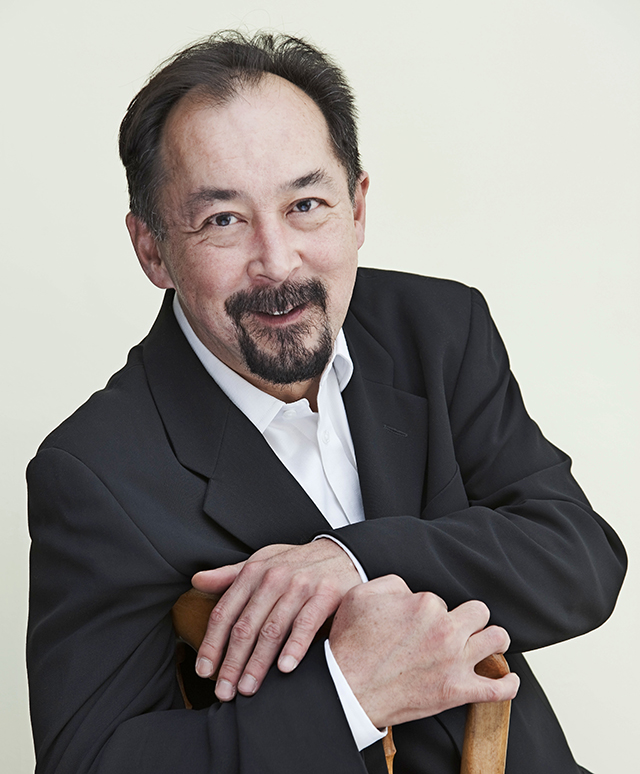 Programme:
SCRIABIN: Prelude and nocturne, Op. 9, Nos 1 and 2
SAINT-SAËNS: from Six études pour la main gauche seule, Op. 135
1: Prélude.
3: Moto perpetuo.
6: Gigue
LIPATTI: Sonatine pour piano (main gauche seule) (1941)
1: Allegro.
2: Andante espressivo.
3: Allegro
BACH arr. Warzycki: Chromatic fantasia in D minor, BWV 903
BACH arr. Brahms: Chaconne in D minor (from Partita No 2 for solo violin, BWV 1004)
Artist info:
Stefan Warzycki was born in Tokyo but grew up in the United States. He gave his first solo piano recital at the age of seven. Since graduating from the San Francisco Conservatory of Music,where he made his concerto debut with the San Francisco SymphonyOrchestra, he has lived in London, where he is also a piano teacher.Over the years he has given recitals and concerto performances in prestigious London music venues(including Wigmore Hall, the South Bank and St John's Smith Square), at the Edinburgh Festival, and in provincial cities around the UK. He has also undertaken numerous concert tours in various countries of continental Europe, North and South America, Japan and south-east Asia. His performance of Bach's Goldberg Variations at the1994 Dubrovnik Summer Festival was a landmark.
Thanks in part to the influence of his mentors, who include Alfred Brendel, LouisKentner and Leon Fleisher, but mostly to his extreme dedication, diligence and musicianship, Stefan's playing is characterised by a beautiful piano sound and an uncommon depth of insight into the music, resulting in subtly nuanced performances of the whole gamut of the"classical"repertoire from Bach to Barber and beyond. In recent years Stefan's right hand has fallen victim to focal dystonia, a debilitating neurological condition which severely impairs control of the fingers, but his left hand is unaffected and like a number of eminent predecessors such as Paul Wittgenstein, LeonFleisher and Raoul Sosa he has re-invented himself as a left-handed pianist, applying his same masterly musicianship to the select and technically challenging left-handed repertoire, now augmented by new music written for him by contemporary composers.
The little known left-hand repertoire is fascinating and highly rewarding. It is hardly surprising that the piano repertoire for left hand alone is limited-after all, nobody would choose to play with one hand if they could use two, wouldthey? Well, that is not quite true. Some of the finest works for left hand were composed not
out of necessity but for artistic, aesthetic or intellectual reasons. For example, Brahms arranged Bach's famous Chaconne for left hand because he felt that the only way that the (a non-violinist) could approximate to the glory of the original on the piano was to use his left hand only."The similar kind of difficulty, the sort of technique, the arpeggio work, all combine to make me feel like a violinist"
Leopold Godowsky, a legendary two-handed piano virtuoso whose Studies on Chopin's Études are the most technically challenging of all music for the left hand alone, was aware of the superiority of the left hand over the right,which he explained in an article in the July1935 edition of TheMusical Quarterly . The left hand is less used for common manual purposes in everyday life; the thumb and strongest fingers of the left hand take the upper notes of chords; and the left hand has command over the superior register of the piano with its "splendid sonority, mellowness and tonal sensitiveness…as compared with the thin, brittle and tinkly sound of the upper register." A left-hand recital programme can not feature Beethoven or Schumann but can draw on interesting and uplifting music of the highest calibre that demands quite exceptional resources of skill and musicianship to achieve a result which it is hard to believe can be produced using one hand alone.
Berceuse had poise and dignity, and the Liszt, in its pensive moments, approached sublimity."
Scotland on Sunday (Edinburgh)
"The imagery and the originality of approach in the Davids bündlertänze were a revelation. Warzycki gave so many nuances of excitement and spontaneity to these distinctive pieces :their contrasts were fascinating, their performance intelligent, noble, whimsical, dynamicand nostalgic… The power and expressive intensity, to say nothing of the technique!, bore witness to the exceptional gifts of an artist of real stature."
El Mercurio (Santiago)
"…musicianly and intelligent pianism-a felicitous balance between Mozartian purity and a boldness of approach…A perfomance[of Mozart's Fmajor concerto] of much finesse and understanding which gave real pleasure in its proportions and stylistic sympathy."
Yonty Solomon
"Both in Schumann's Abegg Variations and in Liszt's Dante Sonata his startling bravura stormed through, and clarified, the complicated tonal oddities of Schumann's work and the richly chorded writing of the Liszt. Throughout, the fingerwork stayed lucid,swift and delicate. No surprises, therefore,when it came to Chopin's two nocturnes, Op.9 and Op.27 No2, that Warzycki's introspective side produced a really wondrous touch: notes firm but hushed, each hanging in illuminated, haunted space."
OxfordTimes
Date: Wed Mar 19th 2014, 1:10–2:00 pm
Venue: St. Sepulchre, the Musicians Church, Holborn Viaduct, London EC1A 2DG
Tel: 020 72374445
Email: godfreyking316@btinternet.com
Web: www.ajsw.org.uk
Organiser: Anglo-Japanese Society of Wessex