Stop and Think: Berlin based Japanese artist SHIMABUKU talks about his recent works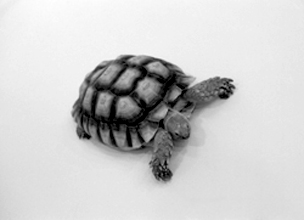 In this fast, modern world, new developments and progress are generally considered to be positive, but sometimes it is important to pause from the endless stepping forward; to stop and think. This is the concept which SHIMABUKU has applied to his recent artworks, such as My Teacher Tortoise (2011), which he will be introducing in this talk. Stopping, the artist says, does not have to be an indicator of ones fatigue or a sign of giving up; it can be a positive recess and chosen halt of advancement.
Japanese artist, SHIMABUKU, will be collaborating with a chef, Daisuke Hayashi of Sake No Hana, in Wide Open School at the Hayward Gallery on 1 July. In this event, art meets food in a unique encounter between the Japanese chef and the artist whose often strange and surreal projects have frequently involved food, as well as tortoises, fish and a touring octopus. SHIMABUKU will also be giving a talk entitled "How do you accept something you don't understand?" at the Hayward Gallery on 3 July.
This event at the Daiwa Anglo-Japanese Foundation is held in association with the Hayward Gallery.
Date: 2 July 2012, 6:00pm
Venue: Daiwa Foundation Japan House, 13/14 Cornwall Terrace, London NW1 4QP UK
Tel: 020 7486 4348 Fax: 020 7486 2914
Email: events@dajf.org.uk
Web: www.dajf.org.uk
Organiser: Daiwa Anglo-Japanese Foundation