Strains of Odyssey (天心の譜) – Oguri Ken'ichi: Special Talk and Film Screening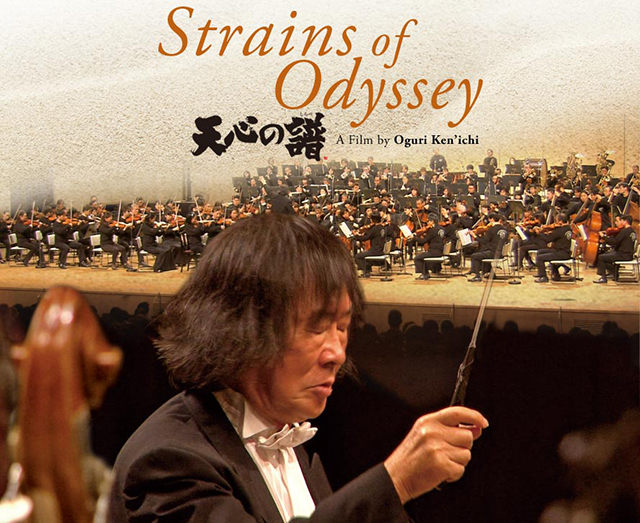 The Japan Society is pleased to present a special screening of Strains of Odyssey, a film that chronicles the power of music to restore confidence in individuals and communities. We are delighted to welcome the film's executive producer, Kayoko Hosokawa, who will introduce the film and answer questions after the screening.
Filmed by the Believe Crew, a team of film makers with intellectual disabilities, Strains of Odyssey focuses on the work of conductor Kobayashi Ken'ichiro, before and after the devastating earthquake and tsunami of 11 March 2011. The Believe Crew first came together to film the 2005 Nagano Special Winter Olympics.
'My journey of self-discovery begins now, into the universe deep inside my heart.'
In 2010, when the Japanese conductor Kobayashi Ken'ichiro turned 70, he and his 'Koba Ken and Friends Orchestra' decided to invite 31 musicians with a range of disabilities to stage a concert together. Among those invited was Taguchi Makiko, who has autism. Makiko began playing the violin as a little girl, inspired by CD violin recordings. Performing in this concert was an opportunity of a lifetime for her as she would be in the company of world-class violinists such as Sezaki Asuka, Kawabata Narimichi, Abe Shinya and the comic illustrator and musician, Ikeda Riyoko. The concert was borne from Kobayashi's wish to see musicians performing their very best, regardless of disabilities. The film follows six months of rehearsals leading up to their first major performance.
Date: Thursday 4 July 2013, 6.00 – 9.00pm
Venue: Khalili Lecture Theatre, SOAS, University of London, Thornhaugh Street, Russell Square, London WC1H 0XG
Fee: Free – booking essential