Summer Holiday Everyday 毎日が夏休み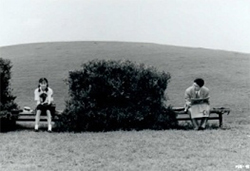 Set in Tokyo in the early 1990s. The Rinkaijis are, by all appearances, a well-to-do Japanese family. The stepfather Nariyuki works for an elite corporation, which gives his wife Yoshiko status in their suburban neighbourhood. One day the daughter Sugina, who herself has secretly stopped going to school as she is being bullied, discovers that Nariyuki has quit his job. He decides to start his own company with Sugina as vice-president: a nandemo-ya (a do-anything service). This only causes embarrassment for Yoshiko in front of her gossiping neighbours and her former husband, and she finds her world falling apart. Their first job does not go off very well, but he and Sugina soon find a closeness they have never had before. Much to Yoshiko's consternation, the next job comes from Beniko, Nariyuki's ex-wife, seemingly in a plot to get him back.
The film is adapted from a comic book written by one of Japan's best comic artists for girls, Yumiko Oshima. Taking on heavy topics like school bullying and corporate conformism, the director offers a pleasantly satirical alternative to the daily grind.
Free admission. Prior registration essential.
Date: 21 June 2016, 6.30pm
Venue: The Embassy of Japan in the UK, 101 – 104 Piccadilly, London W1J 7JT
Web: http://www.uk.emb-japan.go.jp/en/event/films/films_booking.html
Organiser: The Embassy of Japan in the UK