Sun Ae Kim: Quotidian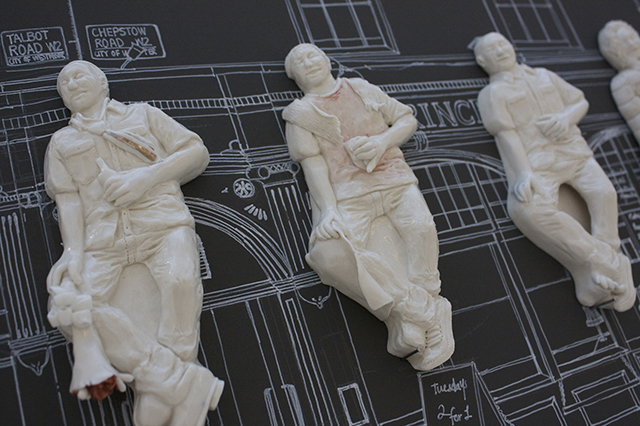 MOKSPACE is delighted to host 'Quotidian,' a solo exhibition by London-based Korean artist Sun Ae Kim.
London-based Korean ceramicist, Sun Ae Kim, draws inspiration from 18th and 19th Century Staffordshire pottery and European ceramics to produce painted porcelain figurines and tableware.
Theatre, performance and the consumption of food, tea and alcohol are notable themes in Kim's work. And at her MOKSPACE exhibition, 'Quotidian,' mounted flatback ceramic figurines take centre stage. The three-piece flatback series 'Three Sisters,' for example, which was inspired by a night-time scene that Kim photographed in London, documents the incapacitating effects of alcohol consumption on three young revellers.
These pieces playfully reinterpret the flatback ceramic style popularised by Staffordshire potters in the 19th Century, where three-dimensional figurines were traditionally made with a plain, flat back. Indeed, the backs of Kim's figurines are even more decorative than their sculpted front sides, adding a touch of intrigue and surprise to the humorous and satirical stories that her painted ceramics narrate.
About the artist:
Seoul-born ceramicist Sun Ae Kim is currently studying for a practice-based MPhil in Ceramics and Glass Art at London's Royal College of Art. She has lectured in Ceramics at Camden Arts Centre and has held residencies at the British Ceramics Biennial and at the University for the Creative Arts at Farnham (2010-2011). Notably, Kim collaborated with Alexander McQueen for Paris Fashion Week 2011/12, mosaicking thousands of pieces of bone china to make jackets, corsets and shoes, and in 2010 she co-founded Studio Manifold, a Shoreditch-based creative collective of RCA students and graduates.
Date: 6th – 22nd March 2014
Venue: MOKSPACE, 33 Museum Street, London WC1A 1LH