Surviving the Tsunami: Salvaging and Digitalising Historical Photographs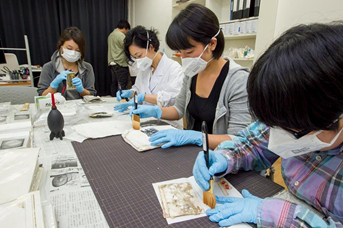 The March 2011 earthquake triggered a tsunami that ravaged coastal areas, destroying buildings and sweeping more than 19,000 people out to sea. One hard-hit community was Rikuzentakata, a city in IwatePrefecture: 80 percent of homes and more than 1,500 people were lost. The city's museums, too, were not spared: The Rikuzentakata City Museum, which held an important collection on the history, folklore and natural history of the region, was completely destroyed. Much of its collection was swept away and its entire staff was killed.
The Rikuzentakata Disaster Document Digitalization ('RD3') Project was established to rescue what could be salvaged of the town's historical photographic collections. Over a period of 31 months, 80 volunteers dried, cleaned and digitalised over 65,000 highly damaged photographs that had been soaked in sea water full of mud, sand and unknown pollutants.
Disasters can happen anywhere, anytime. Keishi Mitsui, who led the project, will share lessons learned so others can plan for future disasters. Of particular interest is the project's use of volunteers and a cloud-based system for data management and archiving, as well as the solutions found for salvaging extremely damaged photographic materials.
Date: 18 November 2014,, 6:00pm
Venue: Daiwa Foundation Japan House, 13 – 14 Cornwall Terrace, London NW1 4QP
Tel: 020 7486 4348
Email: office@dajf.org.uk
Web: http://www.dajf.org.uk/event/surviving-tsunami-salvaging-and-digitalising-historical-photographs
Organiser: The Daiwa Anglo-Japanese Foundation