Surviving Tsunami: Photographs in the Aftermath of the Great East Japan Earthquake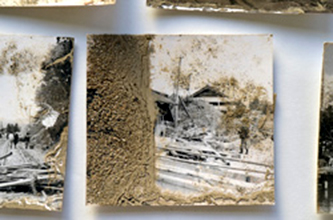 This exhibition presents visual material from a volunteer-led project in Japan to salvage and conserve historic photograph collections after two museums and a library in Rikuzentakata, Iwate Prefecture, were destroyed in the 2011 tsunami. Once the flood waters had receded, and the recovery operation was under way, the damaged collections were transported to Tokyo, and subsequently to Yokohama, where specialist curators developed procedures for preserving as much of the rare material as possible, some of it badly affected by exposure to silt and salt water. A team of more than sixty volunteers continues to work on the Rikuzentakata Disaster Document Digitalization Project (RD3 Project), drying, cleaning, digitizing and documenting over 65,000 photographs, many of which record life in the Tohoku region over the last century.
Exhibition curated by Philip Grover. Organised in collaboration with the Rikuzentakata Disaster Document Digitalization Project.
Date: 8 October 2013 – 30 March 2014
Venue: Pitt Rivers Museum, South Parks Road, Oxford OX1 3PP
E-mail: prm@prm.ox.ac.uk
Tel: 01865 270927
Web: http://www.prm.ox.ac.uk
Organiser: Pitt Rivers Museum, University of Oxford