SUSHI AWARDS 2011: UK Sushi Roll Championship WINNER ANNOUNCED!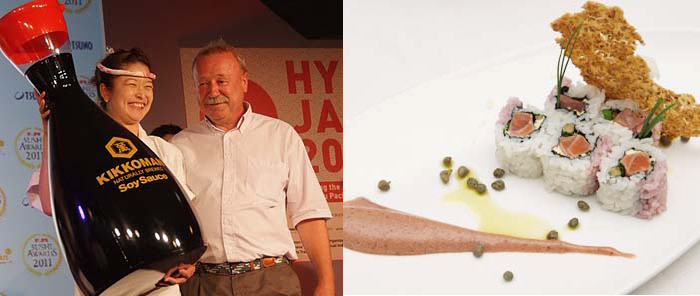 The idea of the winning sushi came from Asuka's own precious memories. Having been brought up by a mother who ran a pizza restaurant, Asuka became familiar with the ingredients and taste of Italy. The use of red wine was influenced by her home prefecture, Nagano, famous for grapes and great red wines. Combining these elements, she spent a good week experimenng with an array of ingredients in order to find the perfect combinaon, and when it came to deciding on the final idea, she received approval from all the sushi masters at the famous Matsuri, St. James's.
The sushi roll was made up using salmon marinated in KIKKOMAN Soy Sauce and red wine, two coloured halves of sushi rice (Sushi vinegared rice and red wine vinegared rice), mascarpone, sun-dried tomato puree, capers, dill, basil, rocket, chives and Nori seaweed. With an accompaniment of KIKKOMAN Soy Sauce and red wine mousse, as well as a sushi ginger and sesame crispy cracker, 'Precious Memories' was created.
Asuka Kobayashi has a decade of experience as a chef at Matsuri St. James's (www.matsurirestaurant.com). She commented 'I was really surprised! I didn't think I would win. All the other chefs are very experienced head chefs so I felt pressure. My mum must be so proud of me, I must call her!'
The value of his vote was the same as the public's. Complimenng all the chefs he told the audience; 'I used to go to Japan a lot in the 90's and I love Japanese culture and food! Seeing and tasting all the sushi entries, it's always very hard to do for large numbers, but the stands were fabulous. The flavours were great and the creavity of it all! It worked remarkably well, it should be incorporated into their menus!'.
The five nominated chefs worked alongside each other at the UK Sushi Roll Championship sushi counter, where each restaurant served 1800 sushi rolls to cket holders over the course of the three day Hyper Japan event, totaling a staggering 9000 pieces. Aer tasng all the entries, ticket holders voted for their favourite. The restaurant and chef who got the most votes received the honour of being crowned UK Sushi of the Year.
The visitors were eager to taste quality sushi and long queues formed each day when serving commenced. Many gathered in front of the booth even before the sushi was served, to watch the chefs at work and take photos of them skillfully preparing their sushi rolls. Many seemed excited to try sushi made up of some interesng and different ingredients not usually associated with this bite size cuisine.
'I like the first one (Precious Memories). I like the combinaon of textures, it was an interesting sauce, and the sweet biscuit; liked it!' Dan Marn, 34, Designer.
'Precious Memories made me go 'oh wow!' Marijke Jensen, 32, Credit Controller 'They're all delicious, it was a tough decision. Precious Memories was just right. Nicely put together.' Jote Bassi, Markeng Consultant.