Suzuki Method and its International Significance, with Professor Koji Toyoda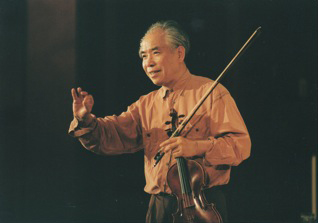 We are delighted to welcome Professor Koji Toyoda, former President of the Talent Education Research Institute in Japan, for a special afternoon lecture. Koji Toyoda is a direct musical descendant of Shinichi Suzuki, having been one of his first students of violin, and in 1999, a year after Dr Suzuki's death, was appointed president of the Talent Education Research Institute (now International Academy of the Suzuki Method), a position he held until 2010. In this lecture Dr Toyoda will discuss the significance of the Suzuki Method of teaching, from his experience as student, teacher and mentor.
The lecture, which will be given in Japanese with English translation, will be followed by a short demonstration by some very young students of the violin with the British Suzuki Institute.
Born in 1934, Koji Toyoda began studying the violin with Suzuki when he was only three and continued with him until the Second World War. After the war, during which Toyoda lost both of his parents, they resumed their studies for another two years. At the age of 12, Toyoda left Japan to become a student at the French National Conservatory of Music in Paris. He later furthered his violin studies in Europe under Georges Enesco and Arthur Grumiaux. Toyoda has had an impressive career. He has won numerous solo playing competitions and distinctions in Europe throughout the years. He was also concertmaster of Rheinischem Kammerorchester in Cologne, and the Radio Symphony Orchestra in Berlin. From 1979 to 2000, he served as professor at the Hochschule der Künste in Berlin, directed several summer music festivals in Germany and Japan, and has made numerous recordings in Japan, Europe, and the United States.
The Suzuki Method of music education is based on the philosophy and teaching methods developed by the Japanese violinist, pedagogue, educator and humanitarian, Dr Shinichi Suzuki. Dr.Suzuki believed in the great potential of music to enrich children's lives, and developed a method of music education to enable children to play music to their highest possible level of ability. His method was derived from his observation of the ease and facility with which young children learn to speak their own language. He analysed and adapted these precepts of language development into a system of music education which was aptly named the 'mother tongue' approach. He began to teach using these methods and soon set up an institute of music in Matsumoto, Japan. In 1964, Suzuki took his first group of musicians to play in the United States. The musicianship and confidence of these young students, playing demanding solo repertoire, astounded the audiences who heard them.
Date: Thursday 24 March 2016, 2.30pm
Venue: Daiwa Foundation Japan House, 13/14 Cornwall Terrace, London NW1 4QP