TABLE FOR TWO and Corporate Social Responsibility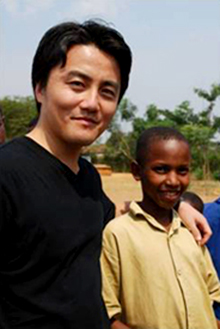 This seminar introduces Masa Kogure, the Director of Table for Two International, and Daniel Goldstein, the Director of Table for Two U.S. They have come to the UK to share their perspectives on social entrepreneurship and propose potential solutions for organizations in the UK to achieve their CSR objectives.
Table for Two (TFT) International is a Japanese non-profit-organization that focuses on redressing the global imbalance in food distribution. TFT raises donations from individuals by providing low-calorie meals that include a premium that is used to buy a matching meal for a starving child in Africa.TFT was launched in October 2007, and currently more than 500 organizations participate in TFT program, including public and private firms/organizations, and universities. TFT has delivered more than 15 million school meals for 70,000 children in five African countries. The idea of Table for Two is expanding across the world. Now it has overseas operations in 11 countries, including the UK.
Date: Wednesday 24 October 2012, 6.45pm
Venue: Simmons & Simmons LLP, CityPoint, One Ropemaker Street, Moorgate, London EC2Y 9SS
Fee: Free – booking recommended