Talk: Kumamoto: Earthquakes and Art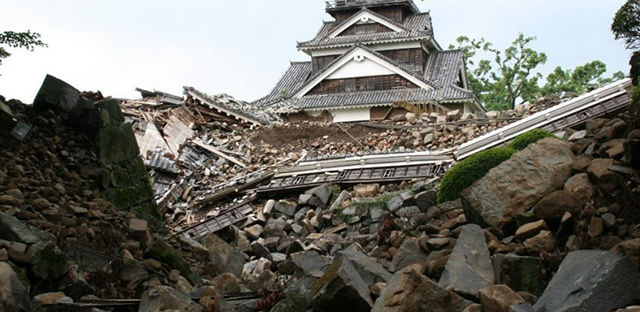 In April 2016, Kumamoto Prefecture was hit by two massive earthquakes in two successive nights. A vast area was devastated, including the iconic Kumamoto Castle. Reconstruction work is currently under way, described by local governments in the area as "Creative Reconstruction". The reconstruction of the castle is particularly fascinating to watch, and is attracting large numbers of tourists from overseas.
The Contemporary Art Museum, Kumamoto, was damaged, but most of the artworks were saved, and it was able to reopen within a month. Due to its central location, and the lengthy closures of other arts venues in the city, the Museum took on a role as a hub for various art forms, including performing arts as well as visual arts. Director of the Museum Takeshi Sakurai will talk about his work there both before and after the earthquake, as well as the progress of reconstruction in Kumamoto more broadly.
Events at Japan House are free of charge. As space is limited, booking is essential.
Date: 26 September 2017
Venue: Daiwa Foundation Japan House, 13/14 Cornwall Terrace, London NW1 4QP UK
Tel: 020 7486 4348 Fax: 020 7486 2914
Email: events@dajf.org.uk
Web: www.dajf.org.uk
Organiser: Daiwa Anglo-Japanese Foundation