Talk on Modern Day Japan – 'In Japan in the Raw'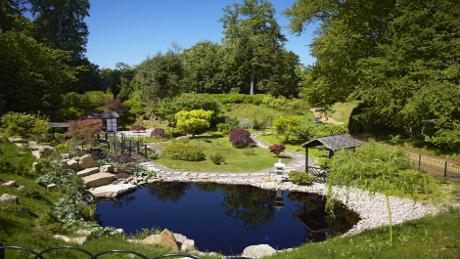 Kingston Lacy is celebrating the 10th Anniversary of the restoration of their onsite Japanese Gardens. They are holding a number of Japanese themed events during June and July 2015.
As part of this, they have an afternoon talk (17th July 2015 at 2pm) lasting approx. 1 hour, delivered by Mary Symons, an Ikebana Sensei and a cultural speaker on Japan.
Her talk, 'In Japan in the Raw' is a light hearted chance to experience a trip to modern day Japan without the flight!
It will cover, Traditional Culture, Customs, Home Life, Food and Travel and as part of this talk, there will be a dramatic Wedding Kimono on display.
Booking is essential. Charge is £10 which includes tea, coffee and biscuits.
Entrance: £10 – includes refreshments (tea, coffee, biscuits) – Booking Essential
Date: 17 July 2015 at 2pm
Venue: Kingston Lacy, Wimborne, Dorset, UK. BH21 4EA
Tel: 0844 249 1895
Web: http://www.nationaltrust.org.uk/kingston-lacy/
Organiser: Mary Symons of Kyoto Designs and The National Trust, Kingston Lacy, Wimborne Dorset.