Talk: The Missing Post Office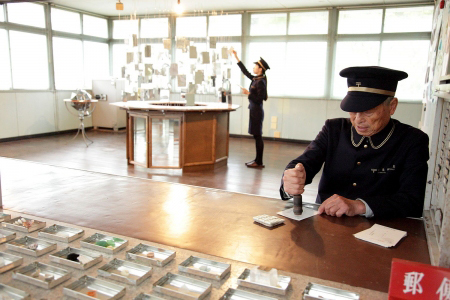 Is there someone to whom you wish you could tell your thoughts, even if you may never receive an answer? This talk introduces artist Saya Kubota's Missing Post Office project, which receives and looks after letters that you want to write but don't know where to send. The Missing Post Office originally opened at the 2013 Art Setouchi Triennale and is still in operation today on the small island of Awashima, where over 7,000 letters are under the care of the postmaster Mr Nakata.
The Missing Post Office invites you to post a letter, like a message in a bottle, which will float 0n the sea of time. A letter to and from anyone, anything, anywhere and at any time, which will one day be washed ashore.
The UK branch of the Missing Post Office will open for a limited time only as part of Kubota's forthcoming solo exhibition at the Daiwa Foundation in January 2016. The collection of letters can be read by anyone during the exhibition period in London, and the letters will eventually arrive in Awashima afterwards. We can receive your letters from now until 22 February 2016.* For those who wish to contribute, please read the instructions and FAQs on missing-post-office.com/missing-post-office-uk, and send your messages on postcards to the address below:
The Missing Post Office UK c/o The Daiwa Anglo-Japanese Foundation
13/14 Cornwall Terrace (Outer Circle) London NW1 4QP
*Please note that: 1 Posted letters cannot be returned to the sender. 2 By addressing your letter to the Missing Post Office, you are agreeing to terms and conditions of participation, and transferring copyright to 'Missing Post Office UK' (copyright holder: Saya Kubota) 3 The name or address of the sender are not required. 4 The letters will not be read until the beginning of the exhibition on 19 January 2016
Date: 22 September 2015, 6.00pm – 7.00pm
Venue: Daiwa Foundation Japan House, 13/14 Cornwall Terrace, London NW1 4QP UK
Tel: 020 7486 4348 Fax: 020 7486 2914
Email: office@dajf.org.uk
Web: http://www.dajf.org.uk
Organiser: Daiwa Anglo-Japanese Foundation