Tango at the End of Winter by Kunio Shimizu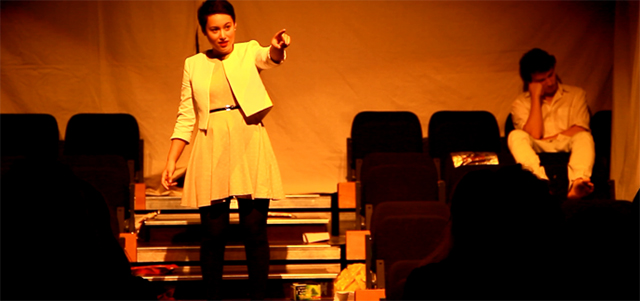 Queen Mary Theatre Company presents Kunio Shimizu's Tango at the end of Winter.
Previously performed in 1991 under Yukio Ninagawa, featuring Alan Rickman as the lead role, this captivating play is a piece of masterful contemporary Japanese theatre.
In the dilapidated dust of the Northern Metropole Cinema, Sei Kiyomura is dreaming. A once brilliant, now reclusive actor, Sei has returned to his childhood home to spend his days in theatrical reverie, or chasing that stuffed peacock from his youth. But a woman has arrived who may change all that. A beautiful, young actress who believes that Sei, may not be delusional at all, and is reaching to rekindle their once had all-consuming love affair.
Written by the brilliant Kunio Shimizu, Tango at the End of Winter captures the beauty and tragedy of Sei Kiyomura's life. All set in a remote place so far north that it may snow right up to the time that the cherry blossoms fall… 'We mustn't let the lights of the Northern Metropole go out forever!'
Directed by Annabelle Sami.
Tickets: £7 (£5 concessions)
Date: 9 January 2015
Venue: Rich Mix, Venue 1, Rich Mix Cinema and Arts Centre, 35 – 47 BETHNAL, GREEN ROAD, SHOREDITCH E1 6LA
Tel: 07521173087
E-mail: annabellesami@gmail.com
Web: http://www.richmix.org.uk/whats-on/event/tango-at-the-end-of-winter/
Organiser: Queen Mary Theatre Company