Temple Tastes – Talk by Rev. Kakuho Aoe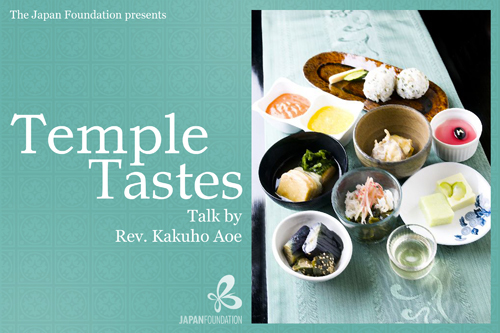 Japanese cuisine, Washoku, may be famous for items such as sushi, tempura, and miso soup, and is one of only two national cuisines to be recognised by the United Nations as an Intangible Cultural World Heritage. There is however a lesser known style of food home-grown in Japan that centres on vegetable-based dishes. With its origins in Buddhist temples, and passed down from generation to generation otera gohan or temple food, uses fresh seasonal ingredients to create perfectly balanced meals that are a feast for all the senses.
In this illustrated talk the Rev. Kakuho Aoe, a monk at Ryokusenji Temple in Tokyo, Japan will discuss the characteristics and history of this ancient cooking philosophy that forms the backbone of modern Japanese food culture, and also introduce the everyday ingredients and cooking techniques used to create these nutritious dishes. With recipes that are simple and have minimal seasoning, Aoe will explore the benefits, new developments, and applications this cooking style has in the modern world, and show how these Japanese recipes can be adapted in the West.
Date: 27 January 2016 from 6.30pm
Venue: Foyles Bookshop, Level 6, 107 Charing Cross Rd, London, WC2H 0DT