TERRACOTTA Far East Film Festival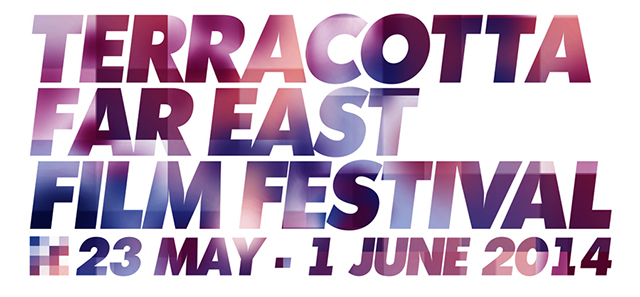 The sixth Terracotta Far East Film Festival (TFEFF) will be held in two central London venues over ten days from Friday 23 May to Sunday 1 June.
The festival is one of the UK's biggest showcases for contemporary Asian cinema, boasting an electrifying mix of movies from emerging and established artists across a range of genres.
This is the second year the festival will run on a two-venue, ten-day format, indicating the growing success of the event as a must-visit for both hardcore fans and more casual cinema-goers to catch some of the most exciting films coming out of Asia today.
KLM are the Official Airline Partner for the fourth year, while What is Bobo are the official design sponsors of the Terracotta Film Festival, also for the fourth consecutive year, creating the festival branding, on-screen identity and all of its promotional material.
This year, the festival will kick off with the "SPOTLIGHT ON" section at the Institute of Contemporary Arts (ICA) between Friday 23 and Tuesday 27 May. The section will focus on the Philippines where a new generation of independent film-makers are producing fresh and increasingly critically acclaimed content.
The festival will then relocate to Prince Charles Cinema in the heart of Chinatown from Wednesday 28 May until Sunday 1 June for its usual sections: CURRENT ASIAN CINEMA will once more be a premiere-packed platform for contemporary films from the region.
And the fast-becoming-cult TERROR COTTA HORROR ALL-NIGHTER will be back too, serving up a marathon of ghosts, zombies, demons and cold-blooded killers.
The full programme for the sixth Terracotta Film Festival will be announced in March 2014 together with ticket information.
Movies aside, the festival also includes a line-up of Q&A sessions and masterclasses, allowing fans a rare chance to interact with top Asian actors and directors.
The Terracotta Film Festival will again be running a short film competition, following the success of the inaugural competition last year. The competition challenged film-makers resident in the UK to submit an original short film to win a trip to Hong Kong. Details on this year's theme, the prize package, and terms and conditions will be announced soon.
Joey Leung, Festival Director, commented: "We're delighted to be launching our sixth year, proving that there is strong demand in the UK to watch Asian cinema on the big screen, as well as proving that there is a consistently high level of quality output from the region. We are also very pleased to continue our partnerships with KLM and What is Bobo; these partnerships are an invaluable part of the festival and we enjoy working closely with them".
Further festival sponsors and brand partners will be announced over the coming weeks.