'Terracotta Film Club' plays jackie Chan's POLICE STORY at the Prince Charles Cinema on January 30th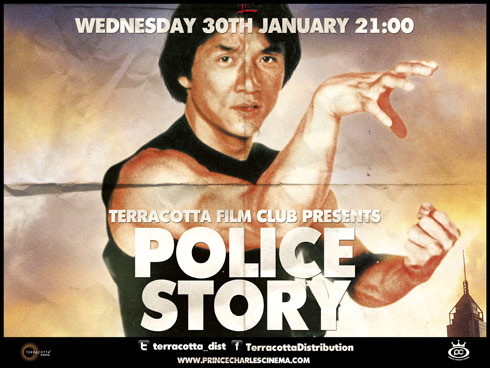 Terracotta Distribution will launch a monthly film screening residency at the legendary cult Prince Charles Cinema, London, in January 2013 with POLICE STORY.
"Terracotta Film Club" aims to keep Asian films in cinemas, via showing a mix of both classics and new releases, and to introduce the next generation of film fans to Asian cinema.
Thought of by Jackie Chan himself as his greatest achievement, the 1985, POLICE STORY also stars iconic actresses Maggie Cheung and Brigitte Lin.
Terracotta are very pleased to be showing Asian films regularly, right in the heart of London.
Gregory Lynn of the Prince Charles Cinema says: "Given the wealth of knowledge the people behind Terracotta Distribution have when it comes to cinema from the Far East, we couldn't think of a better group of people to bring more of it to our screen. Over the years they've presented many mind-blowing new releases to our screen at their annual Film Festival and the thought of them bringing some much-loved classics back to the big-screen is one which has the entire team here very excited."
For more information please visit: www.TerracottaFestival.com