Classical Tuesdays concerts: Min-Jung Kym performs at the Institut francais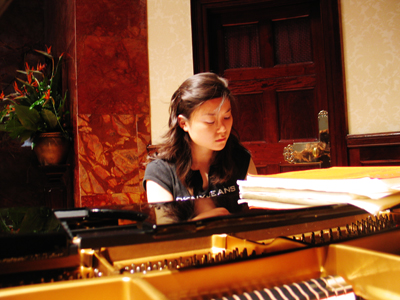 Date: Tue 20 Sept : 8.00pm
Fee: £15, conc. £12, students £8 : early reservation recommended
Venue: The Institut français, 17 Queensberry Place, London SW7 2DT
Tel: 020 7073 1350
Web: www.institut-francais.org.uk
Box office: 020 7073 1350 (from 2 September)
Book online: https://www.institut-francais.org.uk/book
A tribute concert to Pierre-Antoine Bernheim
To open our Classical Tuesdays series, we are pleased to welcome the young Korean pianist Min-Jung Kym. Min-Jung has acquired a widely recognised reputation for her diverse range of styles and repertoire as a soloist, duo and chamber musician. She made her London solo concert debut at the age of twelve with the National Symphony Orchestra at the Royal Festival Hall and after her studies at the Royal Academy of Music, she has performed worldwide. She has played at venues including the Queen Elizabeth Hall, Wigmore Hall, Cadogan Hall, and has also appeared at the Cheltenham Festival and Broadwood International Piano Festival. She has performed Beethoven Concerto No.4 to great critical acclaim with the Philharmonia Orchestra. She has regular collaborations with musicians such as the Haffner Ensemble, Pierre Amoyal and Adrian Brendel.
The programme will include:
Schumann Papillons Op. 2
Beethoven Piano Sonata No. 31 in A flat major Op. 110
Donizetti – Liszt Reminiscences from Lucia di Lammermoor
This concert is a tribute to the late Pierre-Antoine Bernheim, a friend of the Institut français, a great supporter of its activities and a passionate enthusiast of classical music.