The 13th Japanese Matsuri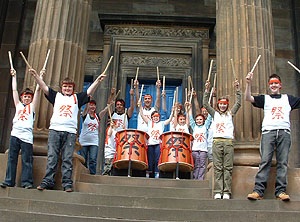 From 1 to 2.30 pm, there will be Japan Experience corner for visitors to put on kimono, try origami, write their names in Japanese aplhabets, and sample Asian sweets.
From 2.30 to 3.30 pm, there will be performance corner for visitors to listen to Taiko (Japanese druming) by local people and Japanese songs by the participants at the weekly Japanese Class.
The event is free and open to the public.
This is supported by the Japan Society of the UK.
This is part of Glasgow's West End Festival.
Admission Free
Date: 15 June 2013, 1 to 3.30pm
Venue: Wellington Church, University Avenue, Glasgow, G12
Email: matsuriglasgow@gmail.com
Web: http://www.japanese-matsuri-glasgow.org.uk/
Organiser: Japanese Matsuri for Glasgow