The 16th Japanese Matsuri 2016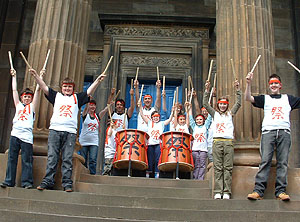 1 to 2.30pm: Japan Experience corners for vistors to put on kimono, do origami, write their names in Japanese, colour in pictures from Japanese fairy tales, try fukroshiki Japanese wrapping cloth, and sample Japanese sweets. There will be an information corner on the organiser, Japanese Matsuri for Glasgow, a recognised Scottish charity (Sc034172).
2.30- 3.30pm: Performance corner with Taiko Japanese drumming and Japanese songs.
Free and open to all, regardless of their backgrounds
Date: 11 June 2016, 1pm – 3.30pm
Venue: Wellington Church, 77 Southpaw Avenue, Glasgow, G12 8LE
Web: http://www.japanese-matsuri-glasgow.org.uk/
Organiser: Japanese Matsuri for Glasgow