The 16th Korean Festival and Liberation Day Ceremony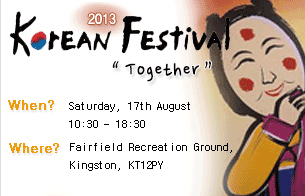 The Korean Festival is to be held on Saturday the 17th of August 2013. In 2013, 'TOGETHER' has been chosen as a theme to promote togetherness within communities and global friendship. A wider variety of cultural activities and performances will be showcased than previously held. This year traditional Korean music and dance will be complimented by performances from other cultures including Africa and Nepal. Also this year there will be a greater emphasis on traditional Korean folk games giving you an opportunity to experience Korean culture.
The Festival is being organised by the Korean Residents Society and sponsored by the Korean Embassy, Korean National Tourism Organisation, Samsung, LG, Hyundai, plus local businesses. The festival is to commemorate the Liberation of Korea and to help bridge the gap between Korean members and local members of our community.
The Korean Festival, previously attended by 10,000 people is one of the largest festivals in London as well as Europe. This year's festival has particular significance for the Free Trade Agreement between the E.U and Korea, which has been effective since July 2011, creating a platform for extensive communication between cultures. The Korean Residents Society has invited a number of Korean companies and local enterprises to promote their products and raise their brand awareness, bringing variety to the cultural event.
Date & Time: Saturday 17th of August, 10:30 – 18:30
Venue: Fairfield Recreation Ground, Kingston KT1 2PY