The AJSW Chamber Music Ensemble at St George's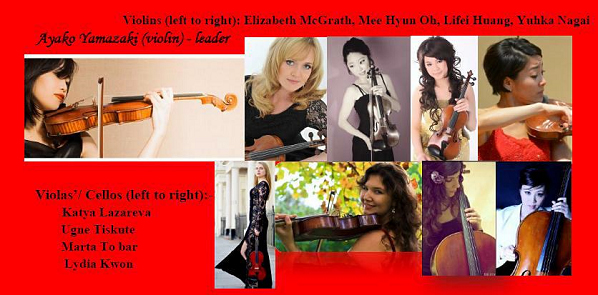 Programme:
Handel (1685 – 1759) Arrival of the Queen of Sheba
Edward Elgar (1867 – 1934) 'Serenade for Strings' Op 20
Kurt Atterberg (1887 – 1974)
Suite No. 3, Op. 19 for violin, viola and string orchestra:'Vision'
led by Ayako Yamazaki (violin) and Katya Lazareva (viola)
Handel – Sarabande in D minor for violin / viola
Ayako Yamazaki (violin) and Katya Lazareva viola)
S. Coleridge-Taylor (1875 – 1912) Fantasiestucke Op. 51st Movement:
I) Prelude 32 II) Serenade III) Humoresque IV) Minuet & Trio V) Dance
George Gershwin (1898 – 1937) 'Lullaby' (arr J. Manookian)
Astor Piazolla (1921 – 1992) 'Libertango' (arr Norbert Gerl)
Artist info:
Ayako Yamazaki (violin) first played for the AJSW in 2001; its first concert in its classical music series of now some 300 plus concerts. Settled now in the UK after lessons from the age of 3 in Japan, Ayako has achieved respect amongst her fellow professionals. Her orchestral experiences include leading positions with various orchestras and performed with Philharmonia, New London Sinfonia, Arion Orchestra and London Chamber Players. Study with Bela Katona, the master of the great Hungarian School, greatly helped her discover deep inner singing and the true voice of the instrument in any style of music.
Despite playing in so many countries and even a tour to Algeria to work as a co-leader at the National Orchestra of Algeria, she values with pride her 9 / 10 from a Bristol Evening Post music review for a solo recital in 2011.
After her first concert with us, Ayako progressed to lead the AJSW CME including overall responsibility for rehearsals.
Elizabeth McGrath (violin) graduated from the Royal College of Music with first class honours. Elizabeth,born in London, started playing piano and violin at the age of 4. She has participated in many festivals, masterclasses and courses in Europe and America as well as the UK including playing as a soloist for UNICEF and in many orchestras including the Royal College Opera, RCM Symphony Orchestra, Royal College Sinfonietta, the LP Youth Orchestra, Bowden Festival, Orchestra USA and the Brunel University Orchestra as leader.
Elizabeth has been with us for every AJSW CME concert to keep the UK flag flying!
Valtie Nunn is rapidly gaining acclaim for her captivating performances of both well known and neglected or contemporary works. She spent most of her childhood in Africa. On returning to England she was inspired to take up the violin by her sister Rebecca Lawrence, who taught her for six years. Over the last few years Valtie has established herself as a violinist to watch. She has won numerous prizes and awards and graduating with first class honurs from the Trinity College of Music after her studies with Andrew Sherwood. As a soloist Valtie has performed with a number of orchestras across the country. She is also an avid chamber musician; Valtie enjoys working in both a duo, with pianist Manuel Lopez Jorge, and The Golden Piano Trio. Recent competition successes include 1st prize in the Leonard Smith Duo Competition and 1st place in the Cavatina Chamber Music Competition with The Golden Piano Trio and recently awarded the John Thompson Chamber Music Prize for excellence.
During her time at Trinity she was awarded almost every available prize. These include the TCM Trust Silver Medal, the Byram Jeejeebhoy Prize for 'outstanding performance' on two occasions, the City Livery Prize for excellence and the Nick Roth Memorial Prize for outstanding contribution to string ensemble playing. She was also awarded the Leverhulme Orchestral Mentorship Scholarship, the Trinity College London Scholarship and a Philharmonia Martin Musical Scholarship Award towards further study at Trinity College of Music with Andrew Sherwood.
Valtie plays a violin by the renowned Italian maker Paulo Castello which has been generously loaned to her.
Mee Hyun Oh (violin) is one of two South Korea born. musicians in our ensemble She began her musical studies by learning the piano at the age of four. It was not until she was thirteen that she started to study the violin. Just one year later, she won the prize at the Ulsan Educational Institution. In 2004, she graduated from the Kewon High School of Arts.
Mee Hyun is currently based in Great Britain where she completed the Bachelor's Degree and MA performance degree at the Royal Academy of Music. She won 1st prize at the North London Music Festival in 2011 and several competitions. She progressed to appear as a soloist and an ensemble player in many venues where she first came to our notice and is visiting St George's with us for the 2nd time as a now established and valued member
Lifei Huang (violin) was born in China where she started learning violin when she was four years old. Five years later she reached the highest violin exam marks in grade eight and grade ten in Shanghai. In 2003, she went into the Shanghai Conservatory of Music Middle School gaining irst place in her year group.. In 2006, she was invited to Chetham's School of Music in Manchester to study violin performing for two years. In 2007, she won the first prize of a Concerto Competition at Chetham's School of Music. She continued studying from 2009 in the Royal College of Music then graduating to teaching and performing. Lifei joined us for our last concert as a late replacement displaying remarkable calmness and discipline and technical ability. We are especially pleased to introduce her to a St George's audience.
Ekaterina 'Katya' Lazareva (viola) was born in 1985 in Belarus. From 2000, she began to study viola with Prof. L.L. Lastovka and from 2004 was her student at the Belarusian State Academy of Music. Between 2003 and 2007 she won prizes at the E. Kohu Internation Music competition in Chisinau, Moldova and at the International Competition for Strings in Kiev, Ukraine.
Katya actively participates in the cultural life of her country and has been performing as a soloist with the Belarusian Philarmonic. In 2009 she moved to London to pursue her solo and chamber career. Since then, she has given a number of lunchtime solo and chamber recitals in notable London venues and with the Schnittke String Trio in the Netherlands. and performed at Cadogan Hall, St. John's, Smith Square. She is a member of various London orchestras, such as I Maestri, with whom she travelled to The Sacred Music Festival on Patmos, Greece, as well as the London Chamber Players, Firebird and Russian Virtuosi of Europe.
Ugne Tiskute is a young and vibrant violist, who has already established herself as an internationally renowned musician and winner of various international competitions and major awards. Her talent has been recognised by the Royal Academy of Music in London where she was awarded full scholarhips to complete her Bachelor and Master degrees. She has performed in various concert venues across Europe such as Wigmore Hall, St. Johns Smith Square, Lithuanian National Philharmonic, Kaunas Philharmonic and many more.
Ugne began her studies at the age of six. Aged nine she had already given her first solo performance accompanied by chamber orchestra.
Ugne moved to London where she successfully continued her career and received numerous major awards. As a versatile musician – as well as actively performing solo and chamber music, she is also a member of EUYO and Jeunesses Musicales. Ugne has also been awarded the International LRAM teaching certificate by the Royal Academy of Music demonstrating her passion for teaching.
Ugne is currently playing the Salamon viola made in 1780, which has been kindly loaned by the Royal Academy of Music in London.
We welcome Ugne for her first performance with the AJSW CME.
Marta Tobar (cello) is based in London. Classically trained at the Royal Northern College of Music, Marta has just finished a two year Master in Solo Performance at the same institution. Marta received support by the Spanish government through various scholarships that allowed her to pursue her career at the Royal Northern College of Music.
Marta has appeared on BBC´s The Culture Show and BBC Radio 3 In Tune, performing extracts of the new opera written by composer Martin Ward (ENO, ROH) and librettist Phil Porter (ROH, RSC). She has also performed live for BBC Merseyside and BFBS with the band The Wishing Well, as part of a 5 month tour through the UK and Europe.
Marta is now a regular member of the AJSW Chamber Music Ensemble.
Lydia Kwon (Cello) was born in Seoul, South Korea, and started learning the cello at the late age of fifteen after having been inspired by seeing Yo Yo Ma and Jacqueline du Pré. She advanced very quickly and within two years, she passed her grade 8 with distinction and entered the Junior Academy. She played in the Stoneleigh Youth Orchestra where she was co-principle cellist, performing solo with the orchestra. She gained a place at the Royal College of Music, and during her studies a number of prizes including the Duke of Devonshire Prize and Anna Shuttleworth Prize.
As a chamber musician she and musical friends Meehyun Oh and Songae Kim formed the Elpis Piano Trio, receiving 1st prizes both at the Kingston Music Festival and Sutton Music Festival in 2012. She also is a member of the All Souls Orchestra, Langham Arts for the last four years which she performs regularly, travelling around the UK and Europe.
As with Mee Hyun Oh this is Lydia's 3rd concert with the AJSW CME.
Date: Thu Feb 19th 2015, 1:00–2:00 pm
Venue: St George's Bristol, Great George Street, Off Park Street, Bristol BS1 5RR
Tel: 020 72374445
Email: godfreyking316@btinternet.com
Web: www.ajsw.org.uk
Organiser: Anglo-Japanese Society of Wessex