The Anime Encyclopedia: A Century of Japanese Animation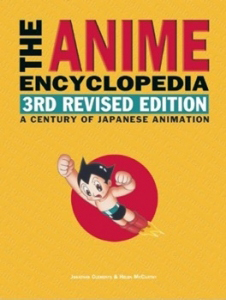 This third edition of The Anime Encyclopedia brings the landmark reference work up to date with six additional years of information on Japanese animation, its practitioners and products, as well as incisive thematic entries on anime history and culture.
With over 1,000 new entries and over 4,000 updates and corrections, The Anime Encyclopedia is a major resource on film art and culture in Japan, from little-known classics to Pokemon and Sailor Moon.
Helen McCarthy originally had no background in Japanese language or culture but went on to become founding editor of Anime UK magazine. The Anime Encyclopedia is the book McCarthy wanted when she first became interested in anime: twenty years later she saw it in print, after co-authoring it with Jonathan Clements. During the talk, she will summarise the book's genesis, its main aims, and share some of the stories it has accumulated along the way to its third shelf-shattering edition of over a million words.
Date: 7 April 2015, 6:00pm
Web: Daiwa Foundation Japan House, 13/14 Cornwall Terrace, Outer Circle, London NW1 4QP
Tel: 020 7486 4348
Email: office@dajf.org.uk
Web: http://www.dajf.org.uk/event/the-anime-encyclopedia-a-century-of-japanese-animation
Organiser: The Daiwa Anglo-Japanese Foundation