The Arista Duo – Melanie Young (flute) with Michiko Shimanuki (piano)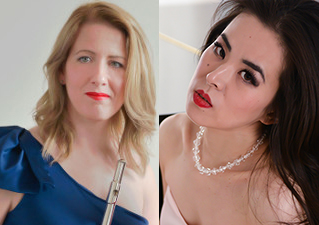 Programme:
Nocturne et Allegro Scherzando Phillip Gaubert
Apres un reve Gabriel Faure
Fantasie Gabriel Faure
Sonatine Pierre Sancan
Serenade Franz Schubert
Carmen Fantasy Francois Borne
Artist info:
The Arista Duo was formed in 2012 after Melanie Young and Michiko Shimanuki had been teaching at the same establishments for many years.
Melanie Young studied the flute at Trinity College of Music, London with Michael Cox and latterly with Karen Jones. She has also received specialist piccolo coaching from Pat Morris.
Melanie has worked freelance with numerous orchestras including Bridgewater Sinfonia, Oxford da Camera and London Ripieno Society, and has toured extensively as a chamber musician with the Sheridan Wind Quintet and the Arista Flute Duo. Melanie also has a wealth of teaching experience since 1991 and currently teaches for the Lincolnshire Music Service and Hertfordshire Music Service as well as teaching privately. She has recently been invited to play principal flute for the Stamford Chamber Orchestra and has been principal flute with the Hertfordshire Philharmonia since 2002 where she had performed Malcolm Arnold's Flute Concerto in May this year, Mozart Concertos and Bach Suite in Bminor in previous years.
Melanie featured on a CD called Eternal Light that went to Number 2 in the classical charts.
Michiko Shimanuki commenced her professional piano studies with Dame Fanny Waterman in Leeds at the age of 17. She obtained her performing diploma from the Royal College of Music (ARCM) in 1991 and continued her piano studies with the late Kendall E. Taylor, CBE in London, Aquiles Delle Vigne at the Ecole Normale de Musique de Paris " Alfred Cortot" in Paris and gave many concerts in the UK and Europe during her 20s. She then pursued her composition studies and received a full scholarship to attend the master class of Betsy Jolas at the Academie Musicale de Villecroze in France in 2003, and completed her Ph.D. in Composition at King's College London in 2011. Her music has been performed by the London New Wind Ensemble and other professional performers since 2004.
Date: Wed Dec 4th 2013, 1:10–2:00 pm
Venue: St. Sepulchre, the Musicians Church, Holborn Viaduct, London EC1A 2DG
Tel: 020 72374445
Email: godfreyking316@btinternet.com
Web: www.ajsw.org.uk
Organiser: Anglo-Japanese Society of Wessex