The Asia Pacific War and Its Legacy: A Historical Debate on the 70th Anniversary of the End of the War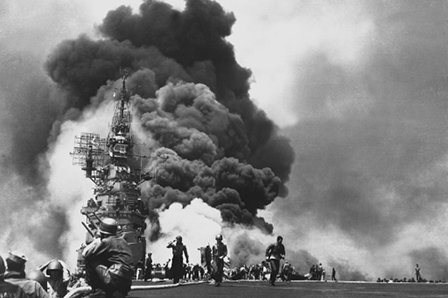 Even 70 years on the Asia Pacific War continues to pose compelling questions concerning morality, justice, accountability and the writing of history. It also remains a contentious topic in both local and world politics, colouring diplomatic relations between Japan, its East Asian neighbours, and beyond. It took place on a theatre many times the size of the war in Europe, and on numerous fronts across the most hostile climates imaginable. These factors have led Francis Pike – one of the speakers at this event – to describe it as 'the most complex conflict geopolitically, geographically and militarily since the Thirty Years War of 1618-1648'. To mark the 70th anniversary of the end of the War, the Japan Society and the International Friendship and Reconciliation Trust are delighted to welcome a panel of world experts for a symposium on the War and its continuing legacy.
Barak Kushner is Reader in Modern Japanese History at the University of Cambridge and has a PhD in History from Princeton University. He has written three books: Men to Devils, Devils to Men: Japanese War Crimes and Chinese Justice (Harvard University Press, 2015); Slurp! A culinary and social history of ramen – Japan's Favorite Noodle Soup (Brill, 2012), awarded the 2013 Sophie Coe Prize for Food History; and The Thought War – Japanese Imperial Propaganda (Hawaii 2006). He recently finished running a translation of media, propaganda and politics in 20th-century Japan and co-edited a volume about Japan's lost decades with former Asahi Shimbun editor-in-chief, Funabashi Yoichi, entitled Examining Japan's Lost Decades. In March 2013 he launched a 5-year European Research Council funded project, "The Dissolution of the Japanese Empire and the Struggle for Legitimacy in Postwar East Asia, 1945–1965."
Rana Mitter is Deutsche Bank Director of the China Centre and Professor of the History and Politics of Modern China and Fellow of St Cross College at Oxford University. His areas of research are contemporary Chinese nationalism; Republican era Chinese History and the Sino-Japanese War, 1931-1945 and its legacy. His most recent book is China's War with Japan, 1937-45: The Struggle for Survival, which won the RUSI Duke of Westminster's Medal for Military Literature and was named a Book of the Year in The Economist and the Financial Times. He is a regular presenter of the arts and ideas programme Free Thinking on BBC Radio 3, and comments frequently on China in the media.
Francis Pike is a historian and geopolitical economic analyst who has worked in Japan, China and India for over twenty five years. In various capacities, he has advised governments as well as financial institutions and corporations in the United States, Western Europe, Eastern Europe, Asia and the Middle East. In addition to advisory work, he has served as a Director of numerous financial companies including PLCs listed on the UK stock exchange. In Asia he has founded or participated in the establishment of financial institutions in Japan, Korea, Taiwan, Hong Kong, Singapore, India, Bangladesh and Kazakhstan. Furthermore he founded the first investment company dedicated to investment in Russia and the former Soviet states. His articles have appeared in journals and magazines in Asia and the UK. His interests extend to Russian and oriental art and he is a partner of The Temple Gallery, a leading dealer in the field. He has published, in 2010, Empires at War: A Short History of Modern Asia since World War II and, in June 2015, Hirohito's War: the Pacific War 1941-1945.
Date: Monday 5 October 2015, 6.30pm – 8.30pm
Venue: The Carisbrooke Hall, Victory Services Club, 63-79 Seymour Street, London W2 2HF