The Azuré Duo – Nao Maebayashi and Eamonn Ramsay (piano duo)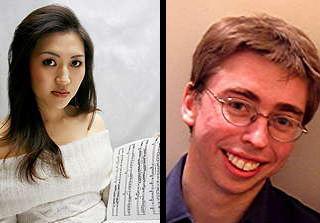 Programme
Mozart's Sonata in D KV 381
Petite Suite Debussy:
1. En bateau
2. Cortège
3. Minuet
4. Ballet
Rachmaninov:
Vocalise
Michael Jackson:
Billie Jean – arranged by Nao Maebayashi
Piazzolla:
Libertango
Artist info
Nao Maebayashi studied with Alexander Kelly, former professor at The Royal Academy of Music, before entering The Trinity College of Music in 1996. Nao continued her studies with Douglas Finch, Head of Keyboard Studies, where she was awarded a Batchelor of Music (B. Mus) degree. In 2001, she completed a Master of Music (M. Mus) degree under the guidance of Raphael Torroni at The London College of Music. Thereafter, she focused on contemporary piano with Evegnia Chudinovich. Since then, Nao has won several prizes in music festivals and performed at the New Quays Concert, London hosted by Elena Riu.
In July 2006, Nao was awarded a scholarship to attend the Chetham's international summer school and festival for pianists. In January 2007, Nao performed Schumann's Piano Concerto with the Oxford and Cambridge Musical Club orchestra at University College, London.
Since 2010, Nao has performed with a contemporary ensemble group, Metapraxis ensemble. They have performed at the Guildhall New Music festival, Soundscapes of East London, the World Listening Project and Researching the Arts conference at Brunel University.
In April 2011 Nao organised a charity concert for 'Tomorrow's Heiwa', a Japan earthquake appeal where she premiered a work by Gregory Emfietzis.
Nao also currently dedicates herself to the Azuré Piano Duo, working with Eamonn Ramsay performing music of piano 4 hands in London and Surrey whilst teaching at Gordon's school in Woking.
Eamonn Ramsay enjoys a busy schedule as a pianist and chamber musician both within London and throughout the UK. A pupil of Philip Fowke at Trinity College of Music, he went on to complete his Masters in piano performance at the Royal Academy of Music with Vanessa Latarche.
Eamonn has a wide repertoire ranging from Scarlatti, Soler and Bach to contemporary works by Michael Tippet and Frederick Rzewski. He has a special interest in the French piano repertory, and has performed and researched extensively the music of Ravel and Debussy. Performances have included chamber music recitals at Croydon's Fairfield Halls, and at the Queen Elizabeth Hall in London. He has also given recitals for a number of music festivals including the Peter the Great festival in Holland, the inaugural Iberia festival in London, the Boyle Arts Festival and the Tryst Festival. He is a keen chamber musician and accompanist, playing throughout the UK and Ireland with the Greenwich-based Meridian ensemble, a group dedicated to exploring and commissioning new music for violin, clarinet and piano.
Date: Fri Jun 28th 2013, 1:10–2:00 pm
Venue: St. Sepulchre, the Musicians Church, Holborn Viaduct, London EC1A 2DG
Organiser: The Anglo-Japanese Society of Wessex