The Green Chorus 26th Annual Concert at St John's Wood Church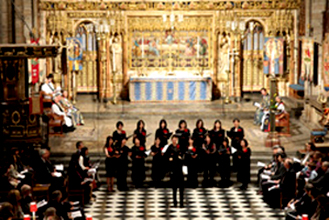 The Green Chorus is a Japanese women's choir formed more than 30 years ago in Golders Green, London. Hence comes the name the Green Chorus.
Following this year's memorial concert (12th March at St Dunstan-in-the-West) for the sufferers of the Great East Japan Earthquake, The Green Chorus is presenting "Japanese Four Seasons in Vivaldi's View" Arranged by Takatomi Nobunaga in Japanese at their 26th Annual Concert.
Programme includes:
Traditional folk songs and children's play songs
English Madrigals as well as Western music by Handel and Brahms
Conductor : Mikiko Ridd
Piano : Noriko Sekiya
Violin : Haru Sekiya
Entrance cost: Free
Date: 28 June 2014, 4.00pm
Venue: St John's Wood Church, Lord's Roundabout, London NW8 7NE
Email: yukiko.y130@gmail.com
Web1: http://www.nipponclub.co.uk/html/05.html
Web2: http://www.stjohnswoodchurch.org.uk
Organiser: The Green Chorus (Nippon Club)