The Green Chorus -27th Annual Concert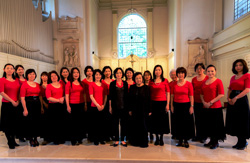 The Green Chorus is a Japanese women's choir formed 40 years ago in Golders Green, London and is a regular participant of Japan related events, such as Japan Festival, at the Southbank Centre and various other venues, introducing Japanese music to the UK. They have a wide range of repertoire: traditional Japanese songs to classical western music.
Following this year's memorial concert for Great East Japan Earthquake at St Dunstan-in-the-West on 11th March, which attracted a large audience, the Green Chorus will be presenting a world of interfaith, "Agnus Dei=空海・真言・絶唱" at their 27th annual concert at St John's Wood Church on 27th June.
Programme also includes
Traditional children's songs and well-loved songs depicting four seasons in Japan Three pieces from Jazz, Tango and Bossa Nova
Songs form "The Princess" by Gustav Holst
Sacred music by Caplet & Takata Saburo
and many more
Conductor: Mrs Mikiko Ridd
Piano: Mrs Akiko Nakano
Guest : Vocal Trio Japonica Voices
Manager: Mrs Sachiko Teranaka
Entrance cost: Free
Date: 27th June 2015, 4.00pm
Venue: St John's Wood Church, Lord's Roundabout, London NW8 7NE
Email: sachiko@teranaka.net
Web1: http://www.nipponclub.co.uk/html/05.html
Web2: http://www.stjohnswoodchurch.org.uk
Organiser: Nippon Club Women's Choir The Green Chorus