The Green Chorus Lunchtime Recital at St Dunstan-in-the-West
Memorial Concert for the 5th Anniversary of the Great East Japan Earthquake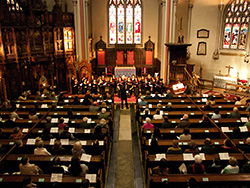 The Green Chorus is a Japanese women's choir formed over 40 years ago in Golders Green, London. Hence comes the name the Green Chorus.
Since the Great East Japan Earthquake and Tsunami in 2011, the Green Chorus has been taking part in numerous charity events and memorial concerts.
This year, the choir is going to present Message which is a song from those who lost thier lives in the disaster to their loved ones who survived it.
The composer is Yuli Oda and is currently singing with the Green Chorus.
Programme includes:
Traditional folk songs and regional lullaby music as well as songs that depict Japan's four seasons. Also British melodies, some pieces from Musicals and many more.
Conductor : Suika Takatsuka
Piano : Noriko Sekiya
Date: 9 March 2016, 1.15pm – 2.15pm
Venue: St Dunstan-in-the-West, 186A Fleet Street, London EC4A 2HR
Email: sachiko@teranaka.net
Web: http://www.nipponclub.co.uk/html/05.html
Organiser: Green Chorus ( Nippon Club)