The Life and Work of Jiro Takamatsu – Talk by Yumiko Chiba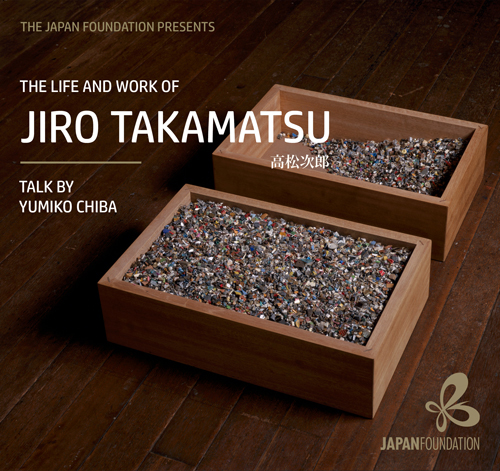 An influential artist, theorist and teacher in the 1960s and 1970s, Jiro Takamatsu (1936-98) is central to the development of sculpture in Japan and is considered to be one of the most important Japanese artists of the post-war era. A founding member of the legendary collective Hi Red Center and key figure of the Mono-ha (School of Things) movement, Takamatsu, over the four decades of his career, sought to explore the boundaries of reality and relationships with the physical world through a diverse body of work including sculpture, photography, painting, drawing and performance art. Takamatsu took part in landmark international exhibitions such as the Venice Biennale (1968) and documenta 6 (1977), but in recent years has received an increasing amount of critical acclaim, with many seeking to revisit Takamatsu's challenging but undoubtedly influential work.
In celebration of the first institutional exhibition outside his home country, Jiro Takamatsu: The Temperature of Sculpture at the Henry Moore Institute (13 July – 22 October 2017), Yumiko Chiba, founder of Yumiko Chiba Associates and representative for the Estate of Jiro Takamatsu, will explore Takamatsu's diverse career, providing a personal insight into the man behind such ground-breaking and diverse work. Drawing on her experience in organising a vast number of exhibitions focusing on the artist, Chiba will also discuss the significance of Takamatsu's work and the undeniable influence he has had upon the art world in Japan and worldwide.
Preceded by an introduction by Lisa Le Feuvre, Head of Sculpture Studies at the Henry Moore Institute, Chiba's talk will be followed by an informal discussion chaired by writer and curator Ellen Mara De Wachter.
Date: 13 July 2017 from 6.30pm
Venue: The Art Workers Guild, 6 Queen Square, London WC1N 3AT