The Many Faces of Noh – Talk and Demonstration by Hideta Kitazawa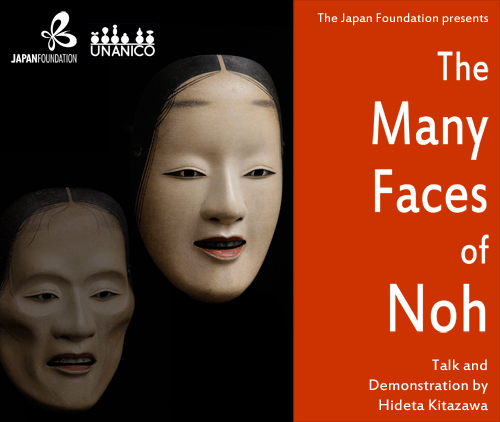 Noh is a traditional form of Japanese theatre characterised by its use of masks. A key element of the performance, Noh masks are both highly detailed and deeply expressive. Originating from just 60 basic designs, today there are believed to be over 200 different kinds in use.
Following the success of his talk in 2009 and as a precursor to the Noh performance 'Noh time like the present…' A Tribute to Akira Matsui, the Japan Foundation are delighted to welcome back second-generation Noh mask carver Hideta Kitazawa. With Kitazawa, this illustrated talk will briefly explore the history of Noh masks and their role in Noh theatre, and will feature a live demonstration of the carving techniques used to create these distinctive pieces.
Kitazawa will also discuss the different types of Noh masks and will examine how the creation and carving process has evolved since 14th century. Drawing on his personal experiences as both a Shinto temple carver and mask maker, Kitazawa's talk will provide an invaluable insight into this ancient art.
Date: 21 February 2017 from 6.30pm
Venue: Foyles Bookshop, Level 6, 107 Charing Cross Rd, London, WC2H 0DT