The media and politics – a conversation with Tadakazu Kimura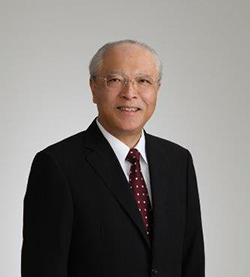 For this event, Japan Society chairman, David Warren, will be joined in conversation by special guest Tadakazu Kimura to discuss the role of the press in a democratic society. An independent media is invaluable in holding government to account and enabling members of the public to participate fully in the democratic process, and Kimura, formerly President and CEO of the Asahi Shimbun and with wide international experience, is particularly well placed to review the situation in Japan and the UK.
Tadakazu Kimura is Senior Robert and Lisa Sainsbury Fellow at the Sainsbury Institute for the Study of Japanese Arts and Cultures.
He is an experienced journalist and former President and CEO of the leading Japanese newspaper the Asahi Shimbun. He joined the company in 1976 after graduating from Waseda University in Tokyo. Since then, he has spent more than thirty years covering Japanese domestic politics and international affairs. In 1994 he was dispatched to Washington D.C. as political correspondent, and in 2005 was sent to London as European writer and Chief of European General Bureau of the Asahi. Until recently, he served as Executive Managing Editor, Board member in charge of cultural undertakings, and President and CEO of the company.
Kimura received the Award of the Tokyo Art Directors Club in 2009 and was made Honorary Commander of the British Empire (CBE) for his longtime contribution to the UK-Japan relationship in 2014. He is author and co-author of a number of publications: The Persian Gulf War and Japan; The Dominant Rule by Takeshita Faction; What's Going on in European Socialism? ; Policy Making and Media; and Odd Constructions Heritage in the World.
Date: Wednesday 25 May 2016, 6.00 for 6.30pm
Venue: Mitsui & Co Europe plc, 9th Floor, 1 St Martin's-le-Grand, London EC1A 4AS