The Power of the Vegetable: The Time for Shojin is Now – Toshio Tanahashi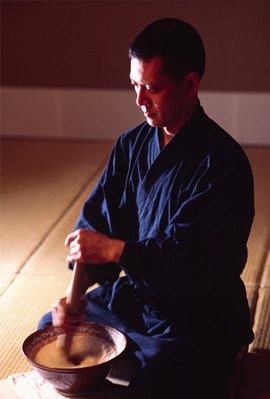 We are delighted to welcome the inspirational chef, Toshio Tanahashi, to the Japan Society to share his vision of shojin ryori, the vegetarian cuisine prepared and served at Buddhist temples.
After training at the Gesshinji, a temple in Shiga Prefecture known for the excellent shojin cooking of its abbess, Tanahashi opened his own restaurant, Gesshinkyo, in central Tokyo in 1992. His passion captured the imagination and his compelling story was later dramatized for television and featured in magazines and newspaper articles. Committed to spreading the word about shojin and exploring the possibilities of this cuisine in contemporary life, Tanahashi later began giving lectures and demonstrations in Japan and overseas, including at the Victoria and Albert in London and the Japan Society in New York.
In this lecture demonstration, Toshio Tanahashi will give an introduction to shojin cuisine, exploring its potential to restore our relationship with food. For those who seek a healthy lifestyle and are interested in savouring the flavours of vegetables, shojin is an exciting and accessible tradition, even in every day city life.
After closing Gesshinkyo in 2007, Tanahashi established the Zecoow Culinary Institute and also teaches culinary arts and design at Kyoto University of Art and Design. He continues to pursue his mission to spread awareness of the essence of shojin cuisine worldwide. His publications include Shojin – Wonder of Vegetables [精進 SHOJIN – 野菜は天才] (2003) and The Power of the Vegetable: The Time for Shojin is Now [野菜の力 精進の時代] (2008).
Date: Thursday 16 May 2013, 7.00pm
Venue: Central Street Cookery School, 90 Central Street, London EC1V 8AJ