The Resonance 響き合う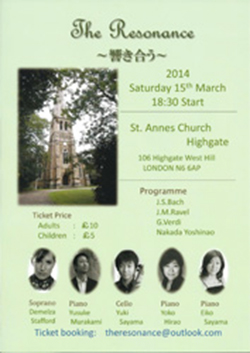 The resonance of music is in our hearts and minds. We welcome spring by bringing together five wonderful international performers, one Soprano, a Cellist and no less than three Pianists! An evening packed with stunning music including Italian opera, English Song, Piano Duets, Cello Concertos and traditional Japanese music.
The Resonance
Demelza Stafford – Soprano
Yuki Sayama – Cello
Yoko Hirao – Piano
Yusuke Murakami – Piano
Eiko Sayama – Piano
A beautiful and varied concert programme of music stretching from Italian Opera and English Song to piano duos, cello concerto and traditional Japanese music.
Bringing together five international performers, we would like to share a stunning programme of music with you to ring in a long overdue springtime!
The resonance of music is a powerful and beautiful one and a perfect way to share in the positivity that comes with the new life and hopes of Spring. Our programme involves three incredible Pianists, a wonderful young Cellist and a fantastic Soprano, taking in pieces by Bach, Ravel, Verdi and Yoshinao.
The venue is the charming St.Ann's Church, Highgate, the date Saturday 15th March and the time, 6.30pm . We would love to share this incredibly special event with you. Tickets are just £10 and concessions only £5 so please treat yourself to an evening of being wrapped up in The Resonance.
Tickets available at: theresonance@outlook.com
For those of you unable to book online, tickets will also be available on the door.
Date: 15 March 2014
Venue: St. Anne's church Highgate, 106 Highgate West Hill, London N6 6AP
E-mail: theresonance@outlook.com
Organiser: Yoko Hirao