"The SAKE" (Edinburgh Festival Fringe)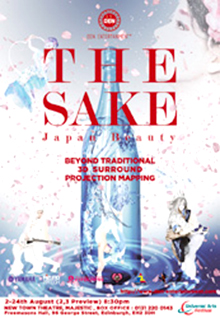 The Sake fuses both traditional and contemporary dance and multimedia at New Town Theatre from 2 until 24 August.
We invite you to the beautiful visionary world of The Sake with Japanese traditional dance, aerial acrobatics, Japanese traditional storyteller, enhanced by world-beating projection mapping and 3D sound.
DEN's motto is "feel Japan through the five senses", and this performance will certainly stimulate yours as they interpret the process of creating the famous Japanese sake.
Featuring artists with diverse backgrounds and skills, DEN will guide you to the twilight zone!
Executive Producer David 'Junya' Yamada has had a major role in Japan, Japan's female youth fashion culture with shows such as Tokyo Girls Collection, and produced events for Fendi and Louis Vuitton. He has also directed shows for J-Pop princess Kyary Pamyupamyu and the world's largest and arguably most famous idol group AKB48.
Admission: £12/£10(Cons), Preview 2 & 3 August : £8
Date: 2 – 24 August 2014, 8.30pm –
Venue: NEW TOWN THEATRE, MAJESTY Freemasons Hall, 96 George Street, Edinburgh, EH2 3DH
Email: uk@den-entertainment.com
Web: http://den-entertainment.com/
Organiser: Den Entertainment