The Tea House in Kyoto – A History of Design Exhibition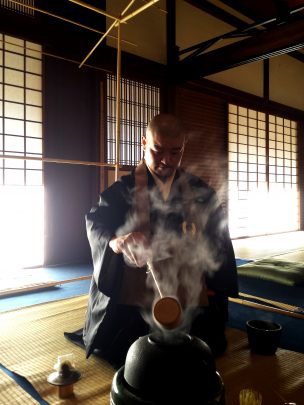 From the cultured court of Shogun Ashikaga Yoshimasa in the eastern hills or 'Higashiyama' above Kyoto in 15th century Japan, sprung the unique fusion of art and everyday life, beauty in simplicity, embodied in the tea house.
In this exhibition, several famous Kyoto tea houses such as Tai-an and Shokoken will be introduced through photographs, architectural diagrams and other forms, and in doing so we hope to convey an understanding of key concepts such as wabi and sabi and to give the viewer a feel for the Zen-influenced culture surrounding the Kyoto tea house.
The exhibition will also highlight the history of the renowned Uji tea growing region – south of Kyoto.
Date: 21 July – 22 August 2017
Venue: Daiwa Foundation Japan House, 13/14 Cornwall Terrace, London NW1 4QP UK
Tel: 020 7486 4348
E-mail: events@dajf.org.uk
Web: http://www.dajf.org.uk/exhibitions/the-kyoto-tea-house-an-impression/the-kyoto-tea-house-an-impression
Organiser: Daiwa Anglo-Japanese Foundation