The Watchmaker of Filigree Street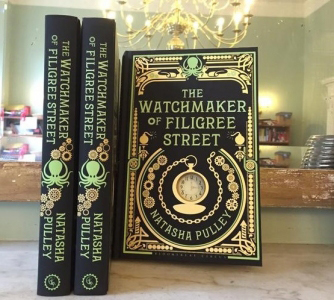 The Watchmaker of Filigree Street, by Natasha Pulley, is a historical novel written while she lived in Japan on the Daiwa Scholarship. The watchmaker in question is a Japanese immigrant living in London at the time of the Fenian bombings of Whitehall, in the late nineteenth century. Many aspects of the book are taken from the author's own experiences and research in Japan.
Natasha will read from the book, and then discuss some details of the research involved. These will include life in the Japanese show village built as part of the Great Exhibition in 1884, the social impact of westernisation in the early Meiji civil service, and the advances of clockwork in the nineteenth century. She will also talk about some of the broader challenges of researching and writing historical fiction in a foreign language, particularly translation and the process of translating history, as well as language, alongside the ever-present struggle between familiarisation and exoticisation faced by any writer dealing with subject matter crossing national borders.
Date: 21 July 2015, 6.00 – 7.00pm
Venue: Daiwa Foundation Japan House, 13/14 Cornwall Terrace, Outer Circle, London NW1 4QP
Tel: 020 7486 4348
Email: office@dajf.org.uk
Web: http://www.dajf.org.uk/event/exposure-inside-the-olympus-scandal
Organiser: The Daiwa Anglo-Japanese Foundation