The World's a Stage: Yukio Ninagawa's Work, Career and His Legacy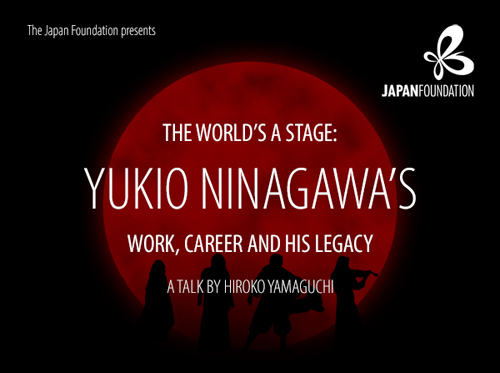 Yukio Ninagawa was Japan's best-known stage director, whose work was marked by its astonishing interpretation and visual imagination. Continually drawn to staging works of literary greats, Ninagawa often harmonised theatre traditions of the east and west through productions of Greek tragedies, Shakespearean plays and much more. Creating worlds of wonder and beauty, Ninagawa's work transcended language barriers and received widespread critical acclaim internationally including in the UK.
On the occasion of the commemorative performances of Macbeth at Barbican and Theatre Royal Plymouth, co-produced by the Japan Foundation, and in celebration of Ninagawa's longstanding relationship with the UK, Hiroko Yamaguchi, theatre critic for the Asahi Shimbun newspaper will draw on her vast knowledge and experience of the masterful director's great body of work. Co-author of the book Ninagawa Yukio no shigoto ("The Work of Yukio Ninagawa") who has observed Ninagawa's epic productions both inside and outside of Japan, Yamaguchi will examine Ninagawa's style and creativity in the past and consider his influence on the global stage. Joined in conversation by Conor Hanratty, a theatre and opera director who also had the opportunity to attend Ninagawa's rehearsals in Japan, they will discuss where Ninagawa's legacy lies and consider his unparalleled contribution to not only Japanese performing arts but also the theatre world as a whole.
Date: 7 October 2017 from 3.00pm
Venue: Bush House (King's College London, Lecture Theatre One), 30 Aldwych, London, WC2B 4PH