Theatre On Screen No.2 – Madame Ong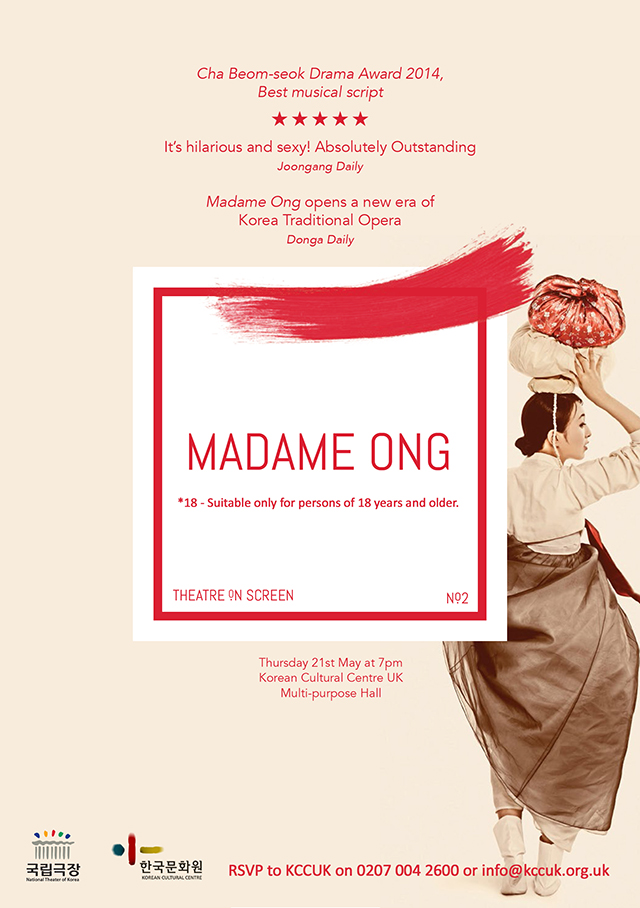 Madame Ong is based on the pansori folktale "Byeongangsoe-jeon, which is widely regarded as being an " folktale for adults, " and was the first R-rated Changgeuk from the 'Lost Pansori Restoration Project'. The story has often been overlooked for its strong language and sexual content, content, and the Pansori had been disappeared. The undercurrent beneath the plot deals with ordinary people's lives, pains and sorrows in the Joseon Dynasty (1392-1910). Director Ko Sun-woong, makes his first attempt to direct the traditional Korean opera. While maintaining the DNA of humour found in the original, Ko reinvents the characters to recreate the overlooked pansori and present a well-made Changgeuk. His Efforts resulted in him being awarded the prestigious Cha Beom-seok Drama Award for Best Musical Script.
Date/Time: Thursday 21st May 2015, 7pm
Venue: Korean Cultural Centre UK/ Multi-Purpose Hall
Running Time: 126mins
Genre: Korean Traditional Opera (Screening)
*18 – Suitable only for persons of 18 years and older.