Third Thursday Lecture: The Rinpa Aesthetic in Japanese Art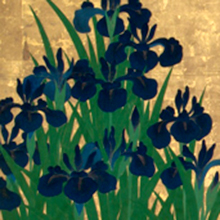 The distinctive style of Japanese art known as Rinpa, or "the school of K?rin", embraces bold, graphic renderings of natural motifs – usually flora and fauna with auspicious or literary symbolism – or formalized renderings of fictional characters, famous poets, and sages. A modern term for an aesthetic that arose in Japan in the early 1600s and flourished until modern times, Rinpa is celebrated for its use of lavish pigments, frequent references to traditional court literature and poetry, and fascinating pictorial works that combine painting and eloquent experimentation in calligraphy. This lecture also explores how artists – either by adding their own inscriptions or collaborating with famous calligraphers – conceived eye-catching compositions that cleverly integrated text and image. The works introduced are part of an exhibition at The Metropolitan Museum of Art that traces the development of the Rinpa aesthetic, highlighting the school's most prominent proponents and illustrating how Rinpa techniques were transmitted to other media such as lacquerware, ceramics, and textiles.
Admission is free and all are welcome. Booking essential.
To avoid disappointment you are advised to reserve a seat by contacting the Institute, stating your name, the number of seats required and a contact telephone number or e-mail address.
ENTRY CANNOT BE GUARANTEED AFTER 6.00PM. We regret that there is no parking available in The Close.
To book a seat email us at sisjac@sainsbury-institute.org or fax 01603 625011 up to two days before the lecture stating your name, number of seats required and a contact number. Unless indicated otherwise the lectures are held at the Norwich Cathedral Hostry (Weston Room), Norwich NR1 4EH.
Date: 16 August 2012, 18:00
Venue: Hostry, Norwich Cathedral, Norwich NR1 4EH
Tel: 01603 624349
Fax: 01603 625011
Email: sisjac@sainsbury-institute.org
Web: www.sainsbury-institute.org
Sainsbury Institute for the Study of Japanese Arts and Cultures