Third Thursday Lecture:Okinoshima: The Origins of Flower Arranging in Japan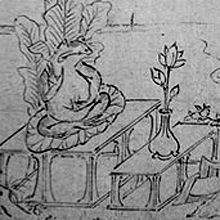 Japanese flower arranging or ikebana had gained global popularity by the end of the nineteenth century. A highly regarded cultural practice, flower arranging still plays an important role in decorating special spaces. This lecture examines how and why flower arranging became such an essential element of 'display' (kazari) in traditional Japanese society. While the practice originally derived from the Continent and later adapted to match Japanese aesthetics, the lecture will consider the key stages of progressive shifts from tradition to modern and the rise of different styles, schools and methods.
ABOUT THE SPEAKER
Michel Maucuer is Chief Conservator of Musée Cernuschi in Paris and a co-author of Arts De L'Asie Au Musee Cernuschi and Henri Cernuschi, 1821-1896: Voyageur Et Collectionneur.
Admission is free and all are welcome. Booking essential.
To book a seat email us at sisjac@sainsbury-institute.org or fax 01603 625011 up to two days before the lecture stating your name, number of seats required and a contact number. Unless indicated otherwise the lectures are held at the Norwich Cathedral Hostry (Weston Room), Norwich NR1 4EH.
Date: 19 April 2012, 18:00
Venue: Hostry, Norwich Cathedral, Norwich NR1 4EH
Tel: 01603 624349
Fax: 01603 625011
Email: sisjac@sainsbury-institute.org
Web: www.sainsbury-institute.org
Organiser: Sainsbury Institute for the Study of Japanese Arts and Cultures