Tobe – Handmade Japanese Pottery Exhibition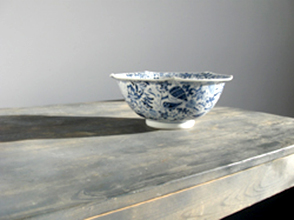 Handmade Interiors is pleased to present a unique showcase to introduce you to an alternative ceramic style. This exhibition will be a rare opportunity for you to purchase handmade Japanese pottery sourced directly from Tobe; a small town on the Japanese island of Shikoku. Combining traditional techniques with contemporary design, the works are luxury objects steeped in history, works of art that are practical and affordable.
Handmade Interiors will host the exhibition in their West London Store, in the heart of Little Venice, showcasing 'one off' and limited edition pieces designed and handmade by Japanese Ceramic artists. The pieces will be available for purchase during the exhibition. The show opens on 5th July 2012 with the preview evening from 6.00pm – 9.00pm. The exhibition runs until 15th July 2012 (opening hours 11.00am – 6.00pm).
Tobe-Yaki pottery, with its white clay and blue patterns, has its roots which go back to the 1770s. Thick, simple pieces with good durability are the staple of Tobe-Yaki. It continues as a collective of small handmade pottery manufacturers and reached its height in the 19th century with the discovery of special porcelain stone in the Tobe area of Japan, which had less iron particles than other types of stone. The slopes of the local mountains were used to build climbing kilns and these were fired with pine from the abundant forests nearby to make porcelain.
In 1953, after a period of decline, Bernard Leach and his friend Muney-oshi Yanagi, the leader of the Japanese Folk Craft Movement, advised the collective of makers to go back to the roots of Tobe-Yaki. This led to the TobePottery we know today, a manufacturer that preserves the traditional skills of handmade and hand-painted porcelain.
In the 21st century, the younger Tobe artists integrate their new taste with traditional skills developing Tobe-Yaki further based on what they have learned from older generations. Tobe is refined tradition and modern design, combined to create blossoming, contemporary works. More than 230 years since its birth Tobe-Yaki is still challenging its potential.
This exhibition focuses on both the traditional and contemporary examples of Tobe pottery and will highlight Tobe's practical and affordable nature. The exhibition follows from the success of the first Tobe exhibition organised by Handmade Interiors in their East London store in 2010, it has now be chosen to be the first exhibition in the brand new West-London store which opened in April 2012.
Admission Free
Date: 5 – 15 July 2012
Venue: Handmade Interiors, 4 Formosa Street, London W9 1EE
Tel: 0207 286 5100
E-mail: info@handmade-interiors.co.uk
Web: www.handmade-interiors.co.uk
Organiser: Handmade Interiors