Toilet Project: A UK-wide Public Art Programme by Korean artist Meekyoung Shin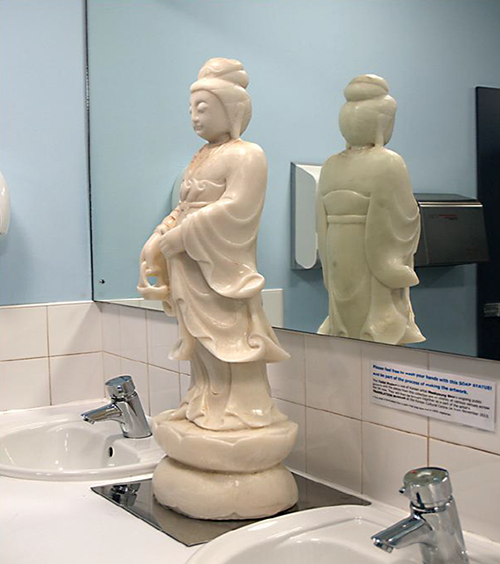 Toilet Project is a UK-wide public art programme by Korean artist Meekyoung Shin that sees works displayed in the bathrooms of 16 galleries and museums in 15 cities across the United Kingdom between July and October 2013.
The items within this 'Toilet Project' will then form part of artist Shin's solo show Translation Museum, The Epic Archive(working title) at the Korean Cultural Centre UK in November 2013. Translation Museum will be the 6th UK-Korean Artist Exhibition at the KCC since we opened in 2008, an annual programme that offers UK-based Korean artists the opportunity to present their works in the capital. Translation Museum will include the items from the 'Toilet Project' and offer guests the opportunity to see how these statues have weathered over the three months that they were used by the public to wash their hands.
Meekyoung Shin is renowned for her recreation of Eastern and Western reliefs in soap, constantly expressing a 'Translation' about the religious, historical and cultural differences between the East and the West. With this ongoing 'Toilet Project', her statuettes which are re-created by casting in Soap have each been placed in various public toilets in 16 galleries and museums across the United Kingdom. As the visitors use them to wash their hands the details of the statuettes soften and fade, creating the pieces' own provenance and unique history. Then, this process of becoming the reliefs is halted and the items are collected ahead of their presentation in the Korean Cultural Centre UK in London.
Artist Shin's Statuettes can be found in the public bathrooms of the following Organisations:
CASS Sculpture Foundation (Chichester)
Centre of Contemporary Art (Glasgow)
Craft Study Centre (Farnham)
Edinburgh International Festival (Edinburgh)
FACT (Liverpool)
Grund Art Gallery (Blackpool)
The Holburne Museum (Bath)
IKON Gallery (Birmingham)
Korean Cultural Centre UK(London)
Lakeside Art Centre (Nottingham)
Leach Pottery (St. Ives)
The National Centre for Craft and Design (Lincolnshire)
Oriental Museum (Durham)
Russell-Cotes Art Gallery & Museum (Bournemouth)
Scottish National Gallery of Modern Art (Edinburgh)
Yorkshire Sculpture Park (Wakefield)