Tokyo Heaven  東京上空いらっしゃいませ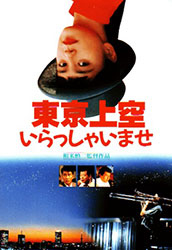 A high school girl, Yu, is a starlet. As a "campaign girl" for a new product, her face adorns all the advertisements on the streets of Tokyo. Her biggest problem is Shirayuki, the managing director of the advertising agency, whose sexual advances offend her. In an attempt to escape his attentions during the campaign, she jumps out of the car. An unfortunate accident then happens, when she is immediately run over by the car behind them. Her spirit flies over the skies of Tokyo.
Shirayuki earnestly continues the campaign by concealing the accident from the public. Meanwhile, Yu, having ascended to heaven, somehow dances back to Earth and bravely tries to embark on her new life. However, Shirayuki now plans to stop the campaign and, instead, begin a mourning project for her. Is she forced to disappear from this world?
Free admission. Prior registration essential.
Date: 19 November 2015, 6.30pm
Venue: The Embassy of Japan in the UK, 101 – 104 Piccadilly, London W1J 7JT
Web: http://www.uk.emb-japan.go.jp/en/event/films/films_booking.html
Organiser: The Embassy of Japan in the UK