Tomoyasu Hotei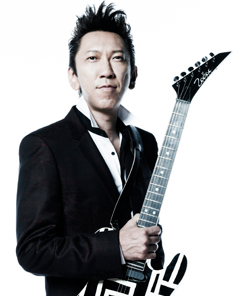 Hotei best known internationally for his song, Battle Without Honor or Humanity instantly recognisable as the theme from Quentin Tarantino's Kill Bill has announced a rare and exclusive performance at London's prestigious Roundhouse in December.
Hotei, whose career spans more than 30 years, began as a guitarist in the legendary rock band, BOØWY. A collaborator both in the studio and live on stage with many diverse international musicians including David Bowie, Jesus Jones, Sugue Sigue Sputnik, Hugh Cornwell, Asia, INXS, Joni Mitchell, Ray Cooper, David Sanborn and Chicago to name just a few. His musical achievements are not limited to multimillion selling albums, producing and song writing hits in his native Japan.
In 1996, he played guitar under the baton of Michael Kamen at the closing ceremony for the Atlanta Olympics. His recent achievements include a live performance with Roxy Music at the renowned Fuji Rock Festival 2010, a recording session with Lee Ritnour for his album, 6 String Theory, and arranging the theme to Tom Cruise's box office hit Mission Impossible – Ghost Protocol.
With a stellar 30 year career as a guitarist, Tomoyasu Hotei, Japanese Rock Guitar Legend and ELECTRIC SAMURAI will take on London.
Date: 18 December 2012
Venue: Roundhouse, Chalk Fram Road, London, NW1 8EH
Ticket Hotline: 0844 338 0000
Online booking: BookingsDirect.com
Organiser: 3A Entertainment Ltd